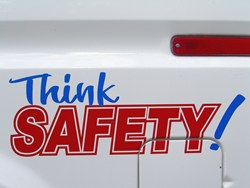 Road Safety Week is an annual event that is taking place this year from the 19th to the 25th of November
(PRWEB UK) 19 October 2012
Road Safety Week is an annual event that is taking place this year from the 19th to the 25th of November. The event is organised by leading road safety charity Brake and it aims to inspire people to promote road safety to those around them in an attempt to reduce the high rate of serious accidents on the roads of Great Britain.
According to recently published government statistics, there has been a rise in road deaths and serious injuries on Great Britain's roads for the first time in nearly a decade. Reports from the Department of Transport show that there was a 6% rise in those killed in cars and 12% rise in pedestrian deaths. Figures such as these highlight the importance of the Road Safety Week initiative.
This year Road Safety Week will be taking on the theme of "Slower speeds = happy people" and will be encouraging people to slow down to 20mph when driving near homes, schools and shops with the aim of increasing the likelihood of a driver stopping in time in an emergency. In the lead up to Road Safety Week, Brake will be encouraging schools, communities, groups and organisations to take action in their areas to raise awareness about slowing down. Those that wish to get involved with Road Safety Week can register here.
Andrew Goulborn, Commercial Director of popular car insurance comparison website Tiger.co.uk commented: "The recently published government statistics showing the rise in serious injuries and fatalities last year really reinforces the need for events like Road Safety Week. We cannot stress enough the dangers of driving at speed and not paying attention on the roads. By far the most important reason for this is to protect the safety of yourself and other motorists, but clearly avoiding accidents will also benefit you financially, by keeping the cost of your car insurance down."
About http://www.tiger.co.uk
Tiger.co.uk is a trading name of Call Connection Ltd. Tiger.co.uk is a UK based, independent motor insurance comparison site, offering insurance quotes from over 150 motor insurance brands. Call Connection Ltd is authorised and regulated by the Financial Conduct Authority (FCA number 308374).
Sources:
http://www.roadsafetyweek.org.uk/
http://www.dft.gov.uk/statistics/releases/reported-road-casualties-great-britain-annual-report-2011/