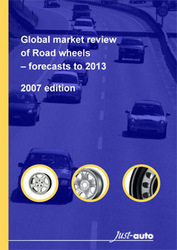 Bromsgrove (PRWEB) September 3, 2007
Although the North American and European aluminium wheel market has grown over the past decade, the pace of growth has slowed and is set to stabilise over the next few years as steel wheels make a comeback, according to research included in the forth edition report 'Global market for road wheels -- forecasts to 2013' published by automotive industry website just-auto.com.
While new high-strength steels can deliver a number of benefits in use, including improved styling capabilities, a big factor in the halt of aluminium's rise will be segmentation trends in the light vehicle market and continued cost pressures on vehicle makers.
As customers downsize to smaller vehicles where cost pressures are more intense and profit margins thinner, aluminium's penetration of the road wheel market is naturally lower than that of lower cost steel.
Aluminium wheels (also known as 'alloy') are around 20 percent lighter than steel wheels but the material and manufacturing costs are considerably higher, making them at least three times more expensive than steel wheels.
just-auto estimates that in North America, about 62 percent of new passenger cars and light trucks sold in 2006 were equipped with aluminium wheels, up from 55 percent in 2000.
Aluminium installation rates have increased to this level since the mid-1980s, when it was only 10 percent.
In Western Europe, just-auto estimates that about one-third of newly registered cars come equipped with aluminium wheels, up from one-quarter in 2000.
Japan is estimated to have a similar aluminium road wheels share to that of Western Europe.
The differential between aluminium and steel wheels in terms of styling capabilities is now seen as much reduced in the industry and that, combined with lower cost, is enhancing the attractiveness of steel wheels.
However, prospects for aluminium in some developing regions that have high steel penetration already -- and where overall market growth is high -- are more positive as these markets are expected to see an increased use of aluminium. China is also emerging as a heavy user of aluminium wheels.
The full just-auto.com report, 'Global market for road wheels --
forecasts to 2013' is available from http://www.just-auto.com/roadwheels.
About just-auto
Since March 1999, http://www.just-auto.com has developed into the most respected and fastest growing automotive trade site globally. just-auto's unique news and research content is produced and sourced via a dedicated editorial team, worldwide network of correspondents and content partnerships. In addition, the just-auto.com research store provides instant access to over 4,000 market reports.
# # #