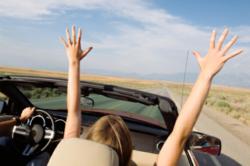 Above all, pack a positive attitude and a sense of adventure to help make any trip fun and stress-free.
Torrance, CA (PRWEB) June 28, 2011
autoMedia.com specializes in educating consumers about stretching their driving dollars. In a tough economy, a road trip may be the only option for getting away. Sometimes a staycation is the only choice, but even that could include packing up the car and kids for a special day. The key is good preparation. While pre-travel car care is imperative, road trip tips for fun and peace-of-mind will help make the trip a pleasure—what vacations are all about.
Deborah Neal, editorial director for autoMedia.com, says, "It's normal nowadays for everyone to put on their personal headphones and not talk to each other." She suggests travelers "print words to their favorite songs and do a little karaoke cruising to share each other's favorites." Above all, she writes, "Pack a positive attitude and a sense of adventure" to help make any trip fun and stress-free.
Most drivers should know to do summer road trip maintenance checks before leaving on a driving vacation, but a lot of people count on good luck or their late model car being too new to break down. Checking tires, brakes, coolant, the battery, belts and hoses goes a long way toward avoiding a breakdown on the side of a hot highway.
Tire conditions are critical to a safe and fuel-efficient road trip. The good news from the Auto Club of Southern California this month is that gas prices have been dropping for the last six weeks. The bad news is that neglected and under-inflated tires waste gas, and worn tires with too little tread are unsafe. Tires should be filled with air to the proper specifications––including the spare––and tread should be inspected. Too-worn tires should definitely be replaced.
Road trip driving behavior is 50 percent of the gas mileage equation. Mileage will likely be reduced during a driving vacation because of the extra weight of a packed vehicle, but mapping out the trip, avoiding aggressive driving and extreme highway speeds can still result in a significant fuel savings.
Excessive speeding is a safety issue, and especially so if traveling with kids and pets. While alertness is key, it's also important to be relaxed while on the road. Plan a road trip to allow for plenty of time. Vacations don't last forever; families want to get as much out of their time together as possible, but it's still important to not over-schedule a road trip to avoid being in a constant hurry. autoMedia also offers 10 tips when taking a road trip with kids.
autoMedia.com was launched in September 2000 by a team of automotive editorial, design, and publishing professionals with the goal to be the premier provider of quality automotive content on and for the Web. Today it boasts over 92,500 pages of original articles, including over 2,500 features researched and written by leading automotive experts, covering new and used car buying, new vehicle previews, road test reviews, car care maintenance, professional driving advice, and technology. Automotive enthusiasts and new car shoppers can read about the latest industry news, pricing, rebates and incentives, view photo galleries and research details on all makes and models. For "automotive advice you can trust," before you buy a car, visit http://www.automedia.com.
# # #