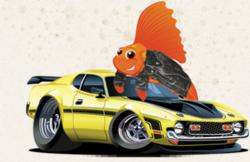 Either way I want to take the public's spotlight on this issue as an opportunity to remind people of how sacred marriage really is.
Washignton, D.C. (PRWEB) January 20, 2012
RoadFish.com men's magazine, today, attacked the concept of open marriage following Newt Gingrich's former wife's statement that Newt had asked for an open marriage. Newt Gingrich refuted the statement at Monday's CNN debate.
Gingrich is quoted as saying, "I think the destructive, vicious, negative nature of much of the news media makes it harder to govern this country, harder to attract decent people to run for public office. And I am appalled that you would begin a presidential debate on a topic like that."
CNN's John King asked Gingrich if that was all he wanted to say when Gingrich added, "Let me finish. Every person in here knows personal pain. Every person in here has had someone close to them go through painful things. To take an ex-wife and make it two days before the primary a significant question in a presidential campaign is as close to despicable as anything I can imagine." Newt went on to say, "You chose to start the debate with it. Don't try to blame somebody else. You and your staff chose to start the debate with it...Let me be quite clear. The story is false. Every personal friend I have who knew us in that period says the story was false. We offered several of them to ABC to prove it was false. They weren't interested because they would like to attack any Republican. They're attacking the governor [Mitt Romney]. They're attacking me. I'm sure they'll get around to Sen. Santorum and Congressman Paul. I'm tired of the elite media protecting Barack Obama by attacking Republicans."
RoadFish.com's editor stated, "It is hard to know what the real truth is here as to what I am hearing it sounds like Gingrich and his former wife are disagreeing on what he really said. Either way I want to take the public's spotlight on this issue as an opportunity to remind people of how sacred marriage really is. To be honest, we do appreciate what Gingrich does for the country with his own personal finances after all he spent $994,708 in federal taxes in 2010."
This flurry of activity on the open marriage concept comes immediately after former Republican candidate Rick Perry announced his endorsement of Gingrich. Ocala.com stated that, "In an up-and-down kind of campaign day, Republican presidential candidate Newt Gingrich picked up an endorsement Thursday from former rival Rick Perry but also faced new accusations from one of his former wives that he had asked her permission to have an "open marriage" after she learned he was having an affair.
The former House speaker also prepared to release his 2010 income tax returns, certain to bring fresh scrutiny to his campaign."
RoadFish.com has continued to comment unashamedly on volatile social topics in the media. In this case, they have condemned the concept of open marriage on the heels of Newt Gingrich's wife announcing that Gingrich wanted an open marriage.
About RoadFish.com
RoadFish.com is an online Men's magazine targeted toward men in their 30's and 40's that have already attained a moderate level of success in life, and are striving toward more. It goes over current events of interest to this group, such things as exciting adventures, hot chicks, making more money, entrepreneurial opportunities, and health tips. It is a publication owned by Purpose Inc.
###