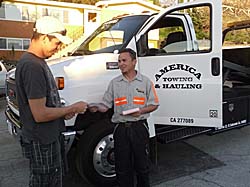 We didn't want to limit our services to just those with cars because motorcyclists sometimes need towing services as well
Concord, CA (Vocus/PRWEB) June 07, 2011
Motorcyclists no longer have to worry about their motorcycle stranding them somewhere. America Towing of Contra Costa is now offering a secure way for towing services and providing roadside assistance for motorcycles. They have acquired new equipment to handle this kind of job and are able to cater to the needs and problems of motorcycle owners. Roadside assistance for motorcycles is now provided in Concord, Walnut Creek, and the Pleasant Hill area.
"We had to acquire new equipment for this service," said Ramon Lagares of America Towing. "We didn't want to limit our services to just those with cars because motorcyclists sometimes need towing services as well."
America Towing now offers faster tow truck services and roadside assistance for cars and motorcycles at the same reliable price using better and safer equipment. The increased safety comes from stronger straps that keep a motorcycle in place while towing. Other services provided by this company are battery replacements, jumpstarts, vehicle hauling, replacing a flat tire, refueling an empty gas tank and many more. They offer these services 24 hours per day, seven days per week and are always willing and able to address customer's questions and concerns.
For more information on discounts or any of America Towing's services, call them at (925) 948-8784 or visit them on the web at http://www.towingservicecontracosta.com.
About America Towing
America Towing provides roadside assistance and vehicle towing in Contra Costa County. Along with tow truck services, America Towing also provides roadside assistance, such as battery replacements, lockouts and jumpstarts. They serve the San Francisco Bay Area communities of Walnut Creek, Lafayette, Pleasant Hill, and Concord.
###