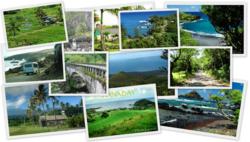 We look at it as a $3000 dollar tour because that's often what people pay to come to Hawaii, and we want our road to Hana tour to be worth the trip.
Hana, Maui (PRWEB) March 31, 2012
Visits to Maui are on the rise and looks to continue for years. The increased demand for Maui tours by Valley Isle Excursions has been met with new guides and another eco-friendly van.
Owners Ray and Yoli Hutaff have been driving the road to Hana for over 25 years and never tire of it's beauty. They truly feel Valley Isle Excursions gives them chance to not only share one of the top 5 scenic drives in the world with visitors, but to give them a true experience of Aloha by sharing the the stories, myths, and legends of Hawaii.
"Hana is quite often the highlight of people's Hawaii vacation" says Ray, "and because of that, we don't look at it as a $150 dollar tour. We look at it as a $3000 dollar tour because that's often what people pay to come to Hawaii, and we want our road to Hana tour to be worth the trip".
New Guides
Valley Isle Excursions puts it's guides through a rigorous training process. Yoli has been guide for Hana tours for over 20 years, she is our Driver Trainer.
All Driver/Guides learn not only how to drive the road to Hana, in a way that even the most carsick person is comfortable, but teach you about the things you see along the way. As many of our veteran drivers grew up in Hana and have first-hand knowledge and stories about the area, each new guide spends a month on tour training with our other guides to acquire the most accurate information to educate our guests during their tour. And of course, to trade jokes! (some are actually good)
"We have people come out on our Hana tour who have driven the road to Hana 5 or 6 times", says Ray, "and have come to the realization that it's stressful and hard to know where to stop and how long to stay." "By booking a Hana tour with everything included and a professional guide they are getting the best experience and a great value compared to what they would spend going the road alone".
Our Maui guides also have a deep connection to the island. They love what they do. They work hard throughout the day to keep the highway safe, clean, and enjoyable for everyone on the road.
New Vans
We are pleased to announce the arrival of a new cruiser in the fleet. Ray, who is a certified mechanic and managed several Midas shops before becoming involved in Hana tours, has designed these vans from the ground up for the road to Hana tour. This custom built 12 passenger sightseeing van with reclining captain chairs, larger windows and elevated seating not only gives more comfort and better views but it's more eco-friendly too.
Specially chosen engine, brakes, suspension and other components exceed in quality, performance and durability of any other van. Their purpose is to last longer, require less maintenance and reduce fuel consumption. The vans were designed to drive on Maui's roads and give passengers the most comfortable ride possible.
About Our Company and Tour
Since 1997 Valley Isle has been providing Maui tours to Hana. The tour starts before 7am with a pickup at a hotel or condo. All-day drinks, breakfast and a picnic lunch are provided, as well as entrance to Haleakala National Park at Oheo Gulch. The tour is filled with stops along the coastline; Keanae Peninsula, Waianapanapa State Park with it's black sand beach, Hana Bay and the Seven Pools are just a few. One of the great things about our Maui tour is the "Backside of Maui", also known as the Kaupo side. Rental car companies restrict travel here because the road is so rough, but it's got a special kind of rugged beauty found nowhere else in Hawaii. The guides call it the massage chair part of the tour, with a nice glass of wine at Tedeschi Winery or ice cream at the Ulapalakua Ranch Store afterwards.
"People who have driven themselves out to Hana often approach our guides asking questions", says Ray. "Of course the most often asked question is "where is the next bathroom", and we know where all the bathrooms are" says Ray with a laugh. "We are more than happy to help, because we believe everyone is Ohana out on the road".