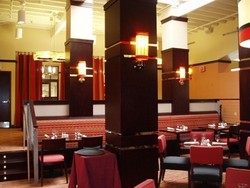 We chose the name Pi because it represents a well-rounded, intelligent approach to doing business.
Roanoke, VA (Vocus) April 30, 2009
The newly reopened Sheraton Roanoke Hotel & Conference Center introduces Pi Kitchen, a clever restaurant concept that solves dining dilemmas. This smart 132-seat establishment features sleek decor in a modern atmosphere. The geometric furnishings use stripes, squares, and rectangles in bold red and gold with black accents. The 'global fusion' style of food preparation puts a contemporary twist on traditional favorites with Asian, American, Mediterranean, and Southern influences.
Pi Kitchen is named after the 16th letter of the Greek alphabet which denotes the mathematical symbol representing the infinite number 3.141592 or the fraction 22/7. Heidi Bergos, Vice President of Stonebridge Companies Sales & Marketing explains the name selection, said, "We chose the name Pi because it represents a well-rounded, intelligent approach to doing business." The symbol and the word 'Pi' along with a bold green sphere will be used interchangeably when marketing the restaurant.
The menu is an eclectic collection of unique combinations of fresh ingredients flavored with rich sauces. Pi Kitchen's signature dish is the Ribeye Espagnole, a tender, moist bone-in ribeye steak with a generous drizzling of espagnole sauce reduction accompanied by a flavorful wild mushroom ragout. Another original creation is the Chile-Rubbed Pork Tenderloin, a succulent pork tenderloin accented with a sweet ancho chile rub, roasted to perfection and served on a bed of spicy black beans and rice.
Executive Chef Jay Cooper oversees culinary operations. Cooper has trained with some of the finest chefs on the East coast and travels the world in the name of food. With over 20 years of progressive chef experience, Cooper has worked in top rated hotel resorts across the globe, most recently MGM's Bet Malon Caesar Hotel, Resort and Casino in Sea of Galilee, Israel. He has climbed the culinary ladder holding the positions of Sous Chef, Executive Sous Chef, Executive Chef, Saucier, and Garde Manager. Originally from Kiryat Tivon, Israel, he has earned a Bachelor of Culinary Arts and Applied Sciences degree from the Institute of Culinary Arts in Rotterdam, Holland, along with an Associate of Kashrut and Food Service Management degree from the University of Haifa in Israel, and is affiliated with Le Cordon Bleu cooking school. He interned at the Korasal Hotel and Casino in Bern, Switzerland. Fluent in four languages, he is accustomed to serving dignitaries, politicians, international personalities and thespians.
This new restaurant concept was created by Stonebridge Companies, a leading hospitality management and development company based in Englewood, Colorado. Navin C. Dimond, President and Chief Executive Officer of Stonebridge Companies, says, "Our approach is to offer business travelers, locals, and visitors a new kind of casual, luxury experience when dining out. The restaurant design makes a striking first impression but we are most excited about the creative, contemporary flair our Chef is offering on traditional favorite dishes."
In geometric terms, Pi is the ratio of the circumference of a circle to its diameter. The ratio of circumference to diameter is always the same number, no matter the size of the circle so it always equals 3.14. Pi is an irrational number meaning it will continue infinitely without repeating. Following this lead, the Pi Kitchen experience provides infinite possibilities for socializing, mingling, and delectable dining. Pi is transcendental by nature, so there are no closed forms of expression. Superior service is the constant. No two occasions will be repeated.
Lunch, dinner and drinks are served daily. Entrée price range is from $7 to $29. Complimentary onsite parking is available.
The proof is in the Kitchen.
Pi Kitchen at Sheraton Roanoke Hotel & Conference Center
2801 Hershberger Road
Roanoke, Virginia 24017
(540) 563-9300
http://www.starwoodhotels.com/sheraton/property/overview/index.html?propertyID=3068
About Pi Kitchen:
Pi Kitchen is located in the Sheraton Roanoke Hotel & Conference Center at 2801 Hershberger Road in Roanoke, Virginia. Owned and operated by Stonebridge Companies in Englewood, Colorado. For more information, go to http://www.starwoodhotels.com/sheraton/property/overview/index.html?propertyID=3068 or call (540) 563-9300
About Stonebridge Companies:
Founded in 1991 by Navin C. Dimond, Stonebridge Companies is a privately owned, innovative hotel management company headquartered near Denver, Colorado, which has developed over 60 hotels and operated more than 75 lodging properties. Currently, Stonebridge Companies operates nearly 40 hotels comprising approximately 6,000 guest rooms in Alaska, Arizona, California, Colorado, Nevada, Utah, Virginia and Washington. The diverse portfolio includes select-service, extended stay, mid-scale and full-service hotels in primary and secondary markets. For detailed information, visit http://www.StonebridgeCompanies.com .
Media Contact Information:
Heidi Bergos, Vice President, Sales & Marketing - Full Service Hotels
Stonebridge Companies
9100 East Panorama Drive, Suite 300
Englewood, CO 80112
303.785.3103
http://www.stonebridgecompanies.com
hbergos (at) sbcos (dot) com
###