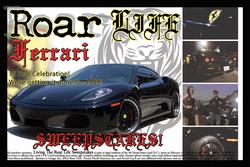 Since our inception in 1994, the vision has been to build a lifestyle brand based on strength and success. We felt that a Ferrari embodied this sensibility. We are thrilled to have the opportunity and pleasure to give away a piece of the ROAR Lifestyle
Los Angeles, CA (PRWEB) August 17, 2009
Roar Clothing is excited to announce the grand prize winner of the "Live the ROAR Life Sweepstakes" and present Delaney Roberts of Wichita, Kansas, with a $100,000 in cash. Delaney Roberts had the choice of a 2006 Ferrari F430 or $100,000 in cash and was presented her check for $100,000 on August 12, 2009. Delaney was picked in a random drawing of more than 88,000 unique entries. The drawing process was done by the Lustigman Firm, P.C. in New York City. (Video KAKE Channel 10 http://vimeo.com/6083311)
Roar Clothing is sharing the Roar Lifestyle and spread positivity in these difficult times. "Since our inception in 1994, the vision has been to build a lifestyle brand based on strength and success. We felt that a Ferrari embodied this sensibility. We are thrilled to have the opportunity and pleasure to give away a piece of the ROAR Lifestyle," stated Deepak Vasandani Founder and CEO of ROAR Clothing.
Delaney describes herself as "Just an old broad with tattoos that loves to smile and make others smile as well." and seems to embody just that person Roar hoped would win. Founder and CEO Deepak Vasandani flew out to Kansas himself and presented Delaney with a big check for $100,000. "I just really want you to know that there are nice guys with great companies out there that want to spread their good fortune and hard work with others and Deepak and Roar Clothing USA are one of the good guys. Thank you so much Deepak from the bottom of our hearts."
After receiving her check, Delaney posted on her blog, "Now I don't know about you but if I don't know the company on my caller ID then I tend to ignore it. I ignored 4 of their calls since they didn't leave a message. Hubby calls me at his usual time, we talk, I hang up and about 15 min. later phone rings again and I think it's Hubby so I pick it up." This time it's Roar.
ROAR's video of the call: http://www.youtube.com/watch?v=mHVpMlyCYq4 Delaney's blog account of the call: http://delaney55.wordpress.com/2009/08/05/omg-i-won-a-freaking-ferrari/
ROAR Clothing marked their 15 Year Anniversary Celebration with the "Live the ROAR Life Sweepstakes". Candidates entered the sweepstakes at http://www.ROARCLOTHING.com with no purchase necessary. The sweepstakes ran for over 6 months and ended on July 15, 2009 at 12 am pst. The OFFICIAL RULES are here: http://roarclothing.com/ferrariRules.pdf.   Roar's Ferrari Sweepstakes has been featured on all the major news wires, NBC, Emoda.com, and ApparelNews.net as well as a nationwide billboard campaign for everyone to enter. This would be the second car giveaway by ROAR Clothing, the first was held in 2007 and ROAR gave away a custom Bronco.
ROAR's style "Fresh Casual" exudes confidence and individuality and is currently carried in Nordstrom, Macys, Dillards Buckle, MetroPark, select specialty boutiques, and now online at http://www.ROARCLOTHING.com
ROAR's designs offers service plaids, tone-on-tone and tribal design graphics with extreme attention to embellishment details such as embroidery, crystals and patch details.
ROAR is a solely owned company based out of downtown Los Angeles, and offers items for Men's, Women's, and Kids as well as Accessories.
For any additional information please contact Kelley Britz.
Media Contact:
Kelley Britz
http://www.ROARUSA.com
# # #