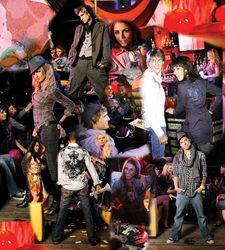 Los Angeles, CA (PRWEB) October 16, 2009
Roar Clothing celebrates its 15th year anniversary with the grand opening of a new showroom in the fashion district of downtown Los Angeles. At the launch party Roar Clothing will be officially introduce the new women's line including fitted t-shirts, wovens and outerwear.
To celebrate the grand opening Roar Clothing has rolled out the red carpet for a celebrity guest list including the who's who in music, television, film and sports. The new showroom includes space dedicated to the women's line, the men's line as well as corporate office space for the company. The showroom is adorned with imagery of Los Angeles, flat-panel televisions, designer furniture and beautiful lighting to showcase the Roar brand.
The full women's line will be available this fall online and in retailers throughout the United States. The line features plaids, lotus flowers and crystal embellishments and carries Roar's signature style of strength and empowerment. For a sneak peak at Roar's womens styles and to view all in stock items for men children and accessories please visit the Roar online store at: http://shop.ROARUSA.com
Roar's style "Fresh Casual" exudes confidence and individuality and is currently carried in Nordstrom, Macys, Dillards Buckle, MetroPark, select specialty boutiques, and now online at http://www.ROARCLOTHING.com
Roar's designs offers service plaids, tone-on-tone and tribal design graphics with extreme attention to embellishment details such as embroidery, crystals and patch details.
ROAR is a solely owned company based out of downtown Los Angeles, and offers items for Men's, Women's, and Kids as well as Accessories.
# # #