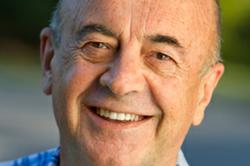 James Noble's comprehensive experience and expertise helped me plan and execute this successful launch, but has also given me the direction I need to develop my business into a sustainable enterprise
Adelaide, South Australia (PRWEB) October 26, 2011
Adelaide-based marketing professional Rob Ryan experienced outstanding success for the launch of his business with Trivita Australia at this year's Royal Adelaide Show.
Held every September at the Adelaide showground in South Australia, the Royal Show attracts over half a million visitors every year. According to the Royal Agricultural & Horticultural Society of South Australia, Over 75% of show patrons visit the one or more of the commercial exhibit pavilions to browse, learn and shop during their time at the show.
The 2011 Royal Adelaide Show was the springboard for Rob Ryan's new wellness-based business, under the direction of UK-based marketing consultant James T Noble.
The results are in, and Mr. Ryan discovered that by renting an exhibition stand at the show he was able to collect in excess of 1000 leads from people interested in learning more about the wellness products and services his company provides.
Prior to the event, Mr Noble consulted on the lead generation strategy as well as the script for engaging passersby in conversation about the products and company.
"Rob and I discussed at length how to get the absolute most from his stand at the Adelaide Royal Show," said James T Noble. "It's an extremely popular event and was a great place to really test the public's response to Rob's products!"
Mr. Ryan talked of the launch: "The launch of the business certainly exceeded my expectations. It was fantastic to meet potential customers who were so enthusiastic about the products!"
"James Noble's comprehensive experience and expertise helped me plan and execute this successful launch, but has also given me the direction I need to develop my business into a sustainable enterprise," he added.
About Rob Ryan
Rob Ryan had a successful 4 decade career in education, with 10 years as a primary school Principal before re-training as a life coach and wellness expert in order to launch his own business in 2011.
For further information about Rob Ryan, visit http://www.robryan.com.au
About James T Noble
James T Noble has helped some of the world's largest brands and companies market their products and services online, including Virgin, Walt Disney Corporation, Coca Cola, Paramount Pictures and many others.
James lives in the UK and works with small business owners worldwide to accelerate their growth through effective online marketing.
For further information about James T Noble, visit http://www.JamesTNoble.com
###