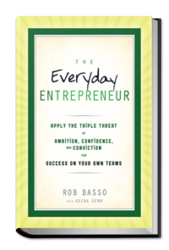 Freeport, NY (PRWEB) December 28, 2012
Basso's book is filled with strategies and powerful anecdotes about defining and setting goals and pushing for entrepreneurial success. The Everyday Entrepreneur reveals how readers can apply the ambitions of a go-getter in their own lives; position themselves ahead of the pack; examine how to calculate risk; and understand the mindset necessary to venture forward on their own.
Written from the perspective of the millionaire next door, the author spoke to visionary entrepreneurs such as Jeff Hoffman, member of the founding team of Priceline.com and Joe Corcoran, creator of the off-Broadway hit Tony and Tina's Wedding, and uncovered what encouraged them to strive, to push the boundaries, and to find honest success on their own terms, not someone else's.
"We live in a melting pot of entrepreneurs and small business owners," said author Rob Basso. "These risk takers are the key to economic prosperity and I am happy to have written a book that includes insights and stories to help them find their path to success."
Rob Basso is an everyday entrepreneur with a mission, no a passion, to help small businesses navigate their way to success. From the time he was in college, Rob has been involved in many business ventures, including an ice cream truck route in a highly competitive and contested area of Long Island. As the owner of the New York region's largest independent payroll processing firm, Advantage Payroll Services, he has interacted with thousands of business owners from virtually all business sectors. With over 2,000 clients, he has his finger on the pulse of small business and has gained a wealth of knowledge about small business operations and growth. The Everyday Entrepreneur is available wherever books and eBooks are sold. For more information, visit http://www.TheEverydayEntrepreneurBook.com.