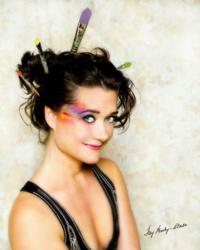 A Robbi Firestone Portrait gifts Dad a once in a lifetime experience, honoring his wisdom and legacy for generations to come
Seattle, WA (PRWEB) May 24, 2012
To Robbi Firestone, making Fathers Day gifts is an art...the fine art of oil portraits. What is the half-life of a usual Father's Day gift? Posing for a Robbi Firestone oil portrait is a gift in itself for Dad. During a sitting, Firestone enables your Father to share the depth of his wisdom and experience, captured on canvas forever in an archival quality oil portrait.
Firestone paints oil portraits of prominent dads like celebrities Grammy Award Winner Keb' Mo', Christian rocker Bart Millard and intellectual luminary Michael Murphy.
Artist Robbi Firestone, founder of Spirit Capture Portraits, specializes in creating colorful oil portraits, which capture her client's physical likeness and inner life. Portraying the spirit of her clients in her oil portraits captivates Firestone.
One of the most notable fathers that has been painted by Firestone is Keb'Mo'. Father of two, Keb'Mo is a three-time Grammy Award winner and eight time Grammy Award nominee. Keb'Mo' is an accomplished and world-renowned contemporary blues guitarist and vocalist.
Another well-known father painted recently by Firestone is Bart Millard. Millard is an acclaimed Christian Rock musician, and front man for the best selling Christian rock band Mercy Me. (She began the portrait backstage at a sold out show, and unveiled it after another.) Best known for the crossover hit, "I Can Only Imagine," MercyMe has been nominated for Billboard Music's 2012 Top Christian Artist alongside other artists such as Casting Crowns, Skillet, Chris Tomlin & Laura Story. Millard is also an accomplished solo artist, being called the Best Male Vocalist by Christianity Today in 2005.
The most recent of famous fathers painted by Robbi Firestone is Michael Murphy, author of Golf in the Kingdom, which is currently being adapted into a movie. Murphy is best known as the co-founder of the Esalen Institute, a key figure in the Human Potential Movement, also author of The Future of the Body and other books on topics related to extraordinary human potential. Robbi Firestone is set to unveil Murphy's portrait at Esalen's 50 Year Anniversary October 2012 with such guests in attendance as global visionaries Marianne Williamson, Katie Byron and Robert Reich.
With a studio in Seattle WA, and opening an additional studio in Santa Fe, New Mexico 2012 blocks from Canyon Road on Old Santa Fe Trail, Dads can visit Firestone's studios or she'll travel to make it convenient for the family.
Robbi Firestone looks forward to honoring men this Father's Day by transmitting Dad's spirit into an archival oil portrait cherished for generations to come.
A Robbi Firestone oil Portrait gives Dad a once in a lifetime experience, honors his wisdom, and enters the life of everyone who sees it; a meaningful gift for Fathers Day that makes every day Fathers Day, lasting generations....this year clients can give Dad something that truly moves and honors him… a legacy gift that won't end up in the garage, closet or attic.
About Robbi Firestone's Portraits:
Spirit Capture Oil Portraits honor one's physical likeness and ones inner life. Each client spends a significant amount of one on one time with artist Robbi Firestone, who goes on to discuss their passions, desires, and life vision. Firestone scripts a calligraphic, intuitive letter resulting in a "Spirit Capture". This letter is placed into the painting to forever inspire and enrich the client's family.
A single individual rate for Dad is $15,000 for 24"x 30" head and shoulders oil portrait, or $30,000 for 30"x40". Prices do not include artist travel expenses. Larger commissions negotiable upon inquiry.
Contact Robbi Firestone's studio at 310-990-4018 or visit http://www.RobbiFirestoneArt.com.