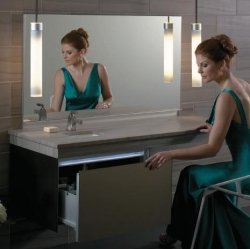 For those looking to get their bathroom organized and make it more enjoyable to use, Robern offers great solutions for functionality or style.
(PRWEB) October 14, 2012
HomeThangs.com – the Home Improvement Super Store has made their goal to deliver the right product to the consumer, with that in mind, shopping and home design tips, as well as special product selections are being introduced.
No matter how big or how small the bathroom, quite often there is still an issue with not having enough storage room. Bathrooms are a little like kitchens in that way - they never seem to be quite big enough. And in both the problem stems from poor organization. This is the worst in bathrooms that are genuinely small. How well the bathroom vanity is designed can really make or break the ability to enjoy or even comfortably use the bathroom.
HomeThangs.com introduced modern bathroom vanities by Robern - a design company (now a division of Kohler), which takes this problem to heart, and only offers products that are specifically and explicitly designed to help get the bathroom organized. From wall mounted bathroom vanities with very well divided drawers to some of the smartest medicine cabinets, it offers a fast and easy way to whip any modern bathroom into shape.
1. Smarter Use Of Space
One of the worst aspects of bathroom design is that many of bathroom vanities out there adhere to the traditional single large cabinet design despite the fact that that's just about the worst method of organization possible for a bathroom of any size. While it's nice to have a place to stick a hair drier, by and large people stand in front of their bathroom vanities to do their smaller toiletries - hair, teeth, makeup, shaving, and so on, all of which involve items that are easily misplaced in an oversized cabinet. Robern answers this nearly universal design flaw with something elegant in its simplicity. Instead of a cabinet, their vanity cabinets have drawers with dividers and sections sized in a way that allows to both keep thing organized and easy to access.
2. Making The Most Of The Available Space
Robern vanities tend to be smaller than an average traditional vanity, if only by virtue of the fact that they're wall mounted (and therefore about half the size right off the bat). But they use the space they have much more efficiently. Even most traditional vanities that have drawers are hindered by the inevitable presence of plumbing below the sink. But while traditional bathroom vanities leave that 3-6 inches or so a hollow and unusable, Robern specifically designs the drawers on their vanities to accommodate the drain pipe. Their Slim Drawer Inserts that allow their vanities to use virtually all of the space inside the cabinets, adding a second layer of drawers right up against the underside of the counter. This makes for a better vanity in a myriad of ways, allowing to get more storage out of a smaller vanity, and also saving one having to bend and dig to a low drawer to get every day toiletries.
3. Making Stuff Easy To Get To
All of Robern's bathroom vanities come with smooth glade, soft close, full extension drawers. That means that all of their drawers can be opened all the way, so even that space way in the back is easily accessible in Robern's bathroom vanities. The soft close bit also means that the drawers will neither make a sound nor upset the delicate balance of all neatly organized items. Plus, the modular nature of Robern's design means that the vanity can be as big or small as needed.
4. It's Not Just The Vanity That Needs Organizing
Like their vanities, Robern's medicine cabinets are extremely well divided on the inside, not just with shelves but often with unique adjustable sections designed with an eye towards the things that people actually keep in their medicine cabinets. Better still, many of their models have sliding doors, multiple smaller doors. The Uplift Series even has mirrors that lift straight up and away without one having to dodge the head or duck.
5. A Little Technology Goes A Long Way
Getting the bathroom organized isn't always simply a matter of dividing the space properly. One of the high-tech organization boosts from Robern is the inclusion of outlets built directly into their medicine cabinets (and as an Add On for their vanities). Things can be plugged in directly into outlets concealed within the medicine cabinet, allowing storing things like shavers that need to be plugged in 24/7 and keep them off the counter. Some of the models have built in mirror defoggers, and others (like M Series ) even come with built in cold storage to keep face creams in peak condition. Some even have a built in nite light to make it easy to navigate the bathroom late at night without having to wake all the way up.
For those looking to get their bathroom organized and make it more enjoyable to use, Robern offers great solutions for functionality or style.
HomeThangs.com is more than just a Home Improvement Superstore. They're constantly seeking to provide homeowners and designers with the right products at competitive prices. With a wide selection of products, expert design tips, and comprehensive shopping guides, Homethangs is a company that's there at all stages of the design process, from idea to execution. It's their goal is to make dream remodels doable.