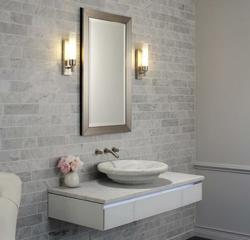 Robern medicine cabinets are a great addition to a luxury bathroom.
(PRWEB) October 28, 2012
HomeThangs.com – the Home Improvement Super Store has made their goal to deliver the right product to the consumer, with that in mind, shopping and home design tips, as well as special product selections are being introduced.
Regular medicine cabinets have always had only one function – a plain storage option with a few shelves, and because of their necessary size and shape restrictions, they don't always do it very well. As a solution, HomeThangs.com introduced Robern, whose high-tech medicine cabinets blow their competition out of the water, and offer much more than just the baseline I-need-more-storage functionality.
1. Mirror Defoggers
In a traditional bathroom, fogged up mirrors is one of those unavoidable every day annoyances that most people just learn to live with, taking the smeared, drippy mirror or hazy reflection in stride. But Robern's medicine cabinets, like the Arch Mirror, are made with built in defoggers that prevent the accumulation of steam in the first place, not only making it usable the moment one steps out of the hot shower, but also saving one having to clean up those drips, streaks, and smears.
2. Built In Outlets
One of the most revolutionary features of Robern's medicine cabinets is built-in outlets. There are some things that just can't be stowed away, – electric razors and electric toothbrushes are the best examples, but straightening irons, curling irons, and hair driers are all up there, too. If it needs to be plugged in, especially if it needs to be plugged in 24/7, it's probably going to spend most of its time on the countertop. But Robern's medicine cabinets, like their Fairhaven Cabinet come complete with electrical outlets or full electrical shelves, allowing to stash these power-hungry items and keep the our counter clear. One can even hook up a smartphone or mp3 player for an easy way to get music in a bathroom.
3. Lifting Mirror
With most medicine cabinets, especially ones installed in close quarters, one has to dodge out of the way to get access to them. The doors are too big and clumsy to interact with, and don't have nearly the same comfortable ease of, say, opening a drawer. Robern's Uplift Medicine Cabinet addresses this problem explicitly, exchanging the traditional swing or slide medicine cabinet doors for an innovative, seamless glass panel that lifts straight upwards for zero clearance installation. This offers full access to the inside of the medicine cabinet without having to dodge the door. And, it also happens to look very stylish.
4. Nite Lites
Night lights are one little luxury that almost no one would think to want. But instead of stumbling into the bathroom late at night and getting blinded with the regular lights, having a dim but efficient glow is not such a bad idea. Robern's M-Series medicine cabinets come with a very soft blue light built into the bottom edge. It's bright enough to let one see the bathroom in the dark without blinding waking all the way up.
5. Cold Storage
Some of Robern's medicine cabinets, like the M-Series, come with built in cold storage – basically a tiny, sectioned off refrigerator inside the medicine cabinet. Having a refrigerator in a medicine cabinet can actually be a really practical solution for keeping temperature sensitive medication or beauty products.
6. Recessed Design
While this one is neither particularly revolutionary nor Robern exclusive, it's worth mentioning that many of their medicine cabinets are designed to be installed partially or fully recessed into the bathroom wall. This has the dual advantage of providing more storage space in a medicine cabinet that takes up less space in a bathroom. This is especially invaluable in a small bathroom, where traditional wall mounted medicine cabinets can feel a little oppressive. A recessed medicine cabinet won't infringe on the space any more than a mirror, while offering all the storage space needed.
So it turns out, medicine cabinets don't have to be a last worst resort – they can actually be a welcome addition to a luxury bathroom, and a pretty good option for adding storage to a small bathroom.
HomeThangs.com is not only a home improvement superstore, it also provides expert design tips and a comprehensive shopping guide, taking the ideas from professional interior designers, and offering tips to the consumers on how to pick the products to best suit their needs.