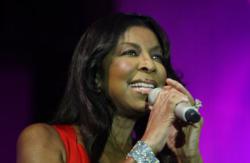 Natalie Cole is an exceptional talent and human being, I am thrilled to have her perform here at the club. - Robert Matthews
Palm Beach, Florida (PRWEB) February 28, 2013
Eight-time Grammy Award winner Natalie Cole gave a rare private performance for 230 of Nantucket's elite during the grand opening celebration commemorating the debut of the ballroom at Point Breeze, an historic landmark in Nantucket Town being transformed into a private club and residences being developed by Robert Matthews of Palm Beach, Florida. "Natalie Cole is an exceptional talent and human being," said Robert V. Matthews, nationally recognized real estate developer and principal of Matthews Ventures, who first met the artist through mutual philanthropic activities. "I am thrilled to welcome her to Point Breeze -- both as an entertainer and Founder Member. Her performance offers a preview of the caliber of entertainment Point Breeze will showcase."
Hailed as a living legend, Natalie Cole opened with "Fever" and featured songs from her album, Still Unforgettable (Rhino Records/September 9, 2008). Her rendition of "Unforgettable" led to a standing ovation. Nantucket's Plum TV captured the mood and Miss Cole's affinity for the club.
On an island where private clubs enjoy considerable cachet and the demand for private homes far exceeds the supply, Point Breeze is destined to become Nantucket's most celebrated address. When complete, Point Breeze will boast 32 signature residences and a private club featuring a world-class spa, fitness center, five-star restaurant, two swimming pools, tennis courts, bowling alley, screening room, wine cellar, and ballroom for private parties and special events.
An exclusive destination known for its pristine beaches, rich maritime history, designer shops and wealth of recreation, Nantucket is located 30 miles off the coast of Massachusetts. Matthews Venture Group was formed to create a unique collection of ultra-elite properties for those who appreciate the very best. By targeting only one-of-a-kind properties in the most sought after locations for acquisition and development, Matthews Venture Group positions itself to become a trendsetter within the high end luxury hospitality market.
Currently, the company is also developing The Palm House, a five-star hotel and private club located on Palm Beach, Florida. Point Breeze is located at 77 Easton Street, Nantucket, MA.
For Additional information Contact:
Gary Truitt
Fat Brain Interactive
(561) 301-2424
press (at) fatbraininteractive (dot) com
###