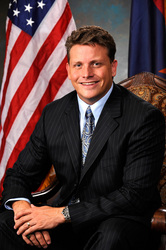 I am passionately committed to Arizona, and I have a distinct vision of how we can work together to help our great state become the strongest one in the union
Phoenix, AZ (PRWEB) August 19, 2009
Robert S. Graham, a successful Arizona businessman and entrepreneur, recently announced his plan to run as a GOP candidate in the 2010 race for the Arizona Governor's Office and that he has filed the required paperwork with state officials. Graham, a resident of Phoenix, believes the state needs strong and proactive leadership to put it back on the track of fiscal accountability, and vowed education and secure borders would be the cornerstones of his leadership platform.
Graham announced his candidacy for Arizona Governor during an open press conference scheduled at 11 a.m., Wednesday, August 12 in the Portales Corporate Center I building located at 4800 N. Scottsdale Road, Ste. 2400 in Scottsdale.
Graham has an impeccable record of leadership in serving the Grand Canyon State's residents and charitable organizations, contributing significant time and money over the past decade. Graham plans to apply his business prowess to rebuilding Arizona's failing economy and positioning the state for a sustainable future as one of the most tax-friendly states in the U.S.
"I am passionately committed to Arizona, and I have a distinct vision of how we can work together to help our great state become the strongest one in the union," said Graham.
"I am running for Governor to help secure a promising future for my kids and all the children and residents of Arizona, one of the most beautiful and unique destinations in the country, where families deserve to fulfill their dreams of opportunity, prosperity, good health and safety. We are going to achieve these goals by putting 'Arizona Out Front' on all the important issues we face today."
Graham's fundamentally strong and simple platform is built on three key issues: the economy, education and secure borders.
Potential for Economic Prosperity
Arizona's tax policy should appeal to all businesses - large and small, Graham said, adding as governor he would also be a personal ambassador for business development and retention. "Our location, strong work force and right-to-work status should make Arizona the preeminent place for business," Graham said. "We need to aggressively recruit companies and small businesses to move and relocate to Arizona, in addition to protecting and rewarding businesses we already have in our state."
Graham's business development initiatives will focus on innovation and technology; health care; and sustainable and energy-related companies. Arizona's inviting climate makes sense for solar, aerospace and space-related industries, and the state must do everything in its power to grow and attract these industries, he added.
Educating the Leaders of Tomorrow
To change what Graham recognizes as "Arizona's woeful national standing in education," he would relentlessly strive to improve the quality of schooling at all levels from elementary through high school. He also notes that a better educated work force is a huge attraction for new business development and recruitment. Bolstering Arizona's public and private universities must be a continued priority - even in a challenging economy.
"We all realize the need to invest in our future and it starts with our children," Graham said. "Ultimately, our education system should focus on how best to serve the students and should be directly accountable to the taxpayers that are funding it. If certain programs provide better test scores at lower costs, it makes sense to include them as part of comprehensive education reform. By learning from their successes, we can integrate their best practices to improve the efficiency and cost effectiveness as well as the educational outcomes of all students."
Secure Borders are Safe Borders
Graham strongly believes that protecting Arizona from drug trafficking, potential terrorist infiltration and illegal immigration is critical to reducing violence in our cities. Moreover, taking control of our border will take pressure off of the state's exhausted financial resources, he said. Strategies to secure the border also must include a process to allow workers to legally enter, seek employment and contribute to Arizona's tax base.
"This is not only Arizona's concern - this is a federal government issue," Graham said. "We need to hold our government accountable for what happens along the border."
During the past two decades, Graham has focused on building and running his successful investment banking consulting, and private wealth management firm, RG Capital. As a business entrepreneur, Graham has worked with and educated thousands of individuals and organizations ranging from Fortune 500 companies to private clients. Graham is an expert at taxation, innovation, entrepreneurialism, globalization, capital markets and tax efficiencies.
Graham has been a featured presenter for the national Financial Advisor Symposium and the Arizona State University Financial Management Association - all of which have provided him with the skills needed to successfully serve as governor while instilling a strong foundational understanding of business strategy and long-term objectives.
In 2008, Graham was awarded a Presidential Commission and a Reagan Congressional Commission by the National Republican Congressional Committee recognizing Graham's lifelong commitment, contribution and service to the Republican Party.
Graham is a cum laude graduate from Arizona State University and resides in Phoenix with his wife, Julia, and his four children. Graham and his family are active in their church, local community as well as national and international charitable organizations. For more information on Robert S. Graham, please visit http://www.grahamforarizona.com.
###