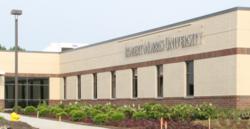 The new campus is designed to expand RMU programs into the northwest suburban area
Chicago, IL (PRWEB) June 23, 2011
The campus will house the evening classes for students in the School of Business Administration program. Through the generosity of a major donor, the first 100 Arlington Heights residents applying will receive grants for tuition enabling students to attend classes with no student loans or tuition bills.
The new campus is designed to expand RMU programs into the northwest suburban area. Robert Morris presently has nine campuses in Illinois with the main campus in downtown Chicago. The evening program in Arlington Heights provides convenience by offering classes two nights a week and a third class taken either online, through an internship or an Innovation Center project. In many instances, students will graduate with a bachelor's degree in less than four years.
As a non-profit, accredited institution, RMU serves approximately 7,000 students each year. The University offers associate and baccalaureate programs through its College of Nursing and Health Studies, Institute of Art and Design, Institute of Technology and Media, School of Business Administration, Institute of Culinary Arts, and master's programs through the Morris Graduate School of Management.
In addition to its academic programs, it offers one of the largest intercollegiate athletic programs in the state, and numerous extracurricular activities for students in a variety of areas.
Students interested in applying for classes at the Arlington Heights campus should call 800-762-5960 to make an appointment with an admissions counselor.
###