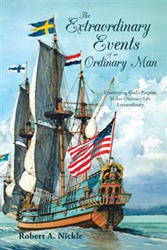 People should read this book if they need encouragement, if they believe that their life could be more meaningful, or if they feel, as I did half way through my life, that 'there must be something more to life than what I am experiencing.'
Garnet Valley, PA (PRWEB) March 05, 2014
Author Robert A. Nickle reaches out to readers who want to experience more of the extraordinary in their everyday lives in his new memoir, "The Extraordinary Events of an Ordinary Man: Discovering God's Purpose Makes Ordinary Life Extraordinary" (published by CrossBooks).
Growing up on a poultry farm in a town so small it didn't even have a post office, Nickle was raised in a devout Christian home where trust, hard work and responsibility were a way of life. Everyone's faith was assumed, and until high school, he carried his Bible almost everywhere he went.
Nickle recalls that in college, a liberal arts education "chipped away" at his faith. Although he still considered himself a Christian, he didn't practice it. He married, began a family and abandoned his lifelong dream career as an artist in search of greater financial success in the business world.
At age 44, Nickle made a decision that pointed him back to his art career and the faith of his youth. He began to see Christianity as a living relationship and daily walk with the Lord, and his quest for financial success was replaced with a desire to serve God. It wasn't long before he began to realize how the ordinary events in his life were actually extraordinary when viewed from his fresh perspective.
"As one of the ordinary people of this world, I believe that other ordinary people will relate to this story and the Holy Spirit will use it to draw them to faith," Nickle says. "People should read this book if they need encouragement, if they believe that their life could be more meaningful, or if they feel, as I did half way through my life, that 'there must be something more to life than what I am experiencing.'"
"The Extraordinary Events of an Ordinary Man"
By Robert A. Nickle
Hardcover | 6 x 9 in | 182 pages | ISBN 9781462733514
Softcover | 6 x 9 in | 182 pages | ISBN 9781462733491
E-Book | ISBN 9781462733507
Available at Amazon and Barnes & Noble.
About the Author
Robert A. Nickle lives with his wife, Lina, in Garnet Valley, PA. He enjoys painting, preaching, teaching Bible studies and spending time with his five children and six grandchildren. "The Extraordinary Events of an Ordinary Man" is his first book.
CrossBooks, a division of LifeWay Christian Resources of the Southern Baptist Convention, is a Christian publishing imprint committed to bringing more Christian voices into the publishing industry. Established authors, first-time authors, and authors anywhere in between can meet their goals and fulfill their vision for their books by publishing with CrossBooks. CrossBooks' innovative style of publishing blends the best of traditional and self-publishing. While our authors contribute monetarily to cover the cost of publishing, we maintain a strict moral and quality standard that every manuscript must meet for us to publish. For more information on publishing your Christian book with CrossBooks, log on to crossbooks.com or call 1-866-879-0502.