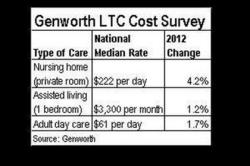 87% of people under the age of 65 mistakenly believe their private health insurance will cover the cost of long term care.
Beaumont, California (PRWEB) May 04, 2012
Price is what scares away most prospective long term care insurance buyers. If a policy is designed to insure almost every possible scenario encountered and guaranteed to pay a lifetime benefit, the premium price will be numbingly high. There are ways to optimize a policy, so the premium can be cheaper.
"71% of Medicare recipients mistakenly believe Medicare is a primary source for covering long term care." This is according to the recently released results of Genworth's 2012 Cost of Care study. In reality, Medicare does not cover the cost of most long term care needs and will only pay for about 100 days of skilled nursing care. Afterward, the insured is 100% responsible for the costs. Sadly enough, "87% of people under the age of 65 mistakenly believe their private health insurance will cover the cost of long term care."
The following factors can make a difference when purchasing a policy:
Facility Daily Benefit is the actual cost per day that a policy will cover. It's a good idea to ask for quotes based on a policy that would cover $100 per day, because then it's easy to determine a higher or lower multiple based on that number.
Facility Benefit Period is the actual length of time that a policy will pay out. The average stay in a long term care facility is about two years, but most people need care for even less. If a lifetime benefit seems too costly, than a five-year benefit should be considered instead.
Home Care Daily Benefit is the percentage of the policy benefit that can be applied to skilled care in the home. This is the favored method for most people, and plans offering 100% of the benefit pertaining to home care should definitely be considered.
Inflation Protection is a benefit that takes future health care costs inflation into consideration. Future costs of health care are expected to rise. This should be a cardinal concern for potential policy holders. If the potential buyer is in their 50s or 60s, compound inflation protection should be considered. If they're in their 70s or older, the premiums are likely to be extremely costly, so a simple inflation protection or none will reduce the costs of a premium.
Facility Elimination Period is the initial time in which a policy will not pay. Since Medicare will usually pay for the first 100 days, it's wise to consider an elimination period of 90 days or more.
Marital Discounts are significant discounts for couples who plan on purchasing insurance together. Many insurance companies offer shared policies that offer less underwriting and reduced costs. Research is suggested however. If a spouse has a history of heart disease, this means they'll have a higher risk of death and should consider opting out. Nonetheless, a spouse with a family history of dementia should strongly consider applying before symptoms occur. Once symptoms arise, that spouse will likely be denied.
If the potential buyer has liquid assets valuing more than $2 million, it is suggested that they consider self-insuring the chance of an event This is just as long as their retirement withdrawal rate is not depleting their nest egg. However, if a potential buyer's net worth is below $250,000, an event would consume the nest egg so quickly that paying insurance premiums would be impossible. Although in that situation, Medicaid might qualify them once debility sets in.
What could be the solution to high-priced premiums? It is suggested to only partially insure the chance of a Long Term Care incident. A policy with a reduced benefit like $100-150 per day should also be taken into consideration along with a shorter benefit period, such as three to five years. This would still allow some coverage for less.
About Robert Cardona LTC Insurance Solutions Inc. - Robert Cardona, a health care provider for the past 20 years and owner of Robert Cardona LTC Solutions Inc. has a sincere desire to help potential clients plan for in-home or custodial care. By promoting self-esteem through physical and emotional well-being, his understanding of the occupational therapy philosophy is shown. (Padvocacy.net)
Robert Cardona would be honored to serve as the insurance agent of choice when considering the appropriate insurance product to meet every individual's needs. Robert Cardona LTC Insurance Solutions Inc. offers alternatives to prevent leaving burdens on unsuspecting offspring. These alternatives will ease future financial, physical, and emotional pressures left on friends and family when LTC becomes a medical necessity. This allows harmony and self-confidence that the forefathers of the current generation knew. What was once taken for granted, must now be planned.