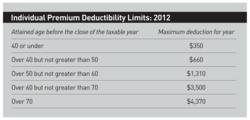 In hopes of lessening the drain on Medicaid resources, the federal and state governments are offering tax incentives to those who purchase or have purchased a Long Term Care insurance policy.
Beaumont, California (PRWEB) March 19, 2012
Some people cannot fathom the commitment of having to pay high priced premiums year after year for something they may never need. In hopes of lessening the drain on Medicaid resources, the federal and state governments are offering tax incentives to those who purchase or have purchased a Long Term Care insurance policy. This also encourages seniors to take a more active role in planning for their future. Robert Cardona LTC Insurance Solutions Inc. lists some of the requirements to be considered a "Tax Qualified" policy.
"Tax Qualified" LTCi policies receive special tax treatment. In order to be considered "Tax Qualified," a policy must adhere to regulations established by the National Association of Insurance Commissioners, be guaranteed renewable, and must offer the options of "inflation" and "non-forfeiture" protections. It also must offer both activities of daily living (ADLs) and cognitive impairment trigger, but may not offer a medical necessity trigger.
The Health Insurance Portability and Accountability Act of 1996 (HIPPA) made it possible for long term care insurance contracts to receive the same reassuring income tax treatment as regular health insurance contracts. LTCi premiums can be deducted as a medical expense, but are subjected to the general 7.5% of the adjusted gross income for medical expenses. As long as the LTCi is established under the policy holder's name or business, and they do not have the options of obtaining coverage from another source (such as a spouse's job provided plan), the premium is deductible, but so is their spouse's and dependents'. It's not even necessary to itemize the medical expenses to take the deduction. Six tax breaks for Long Term Care insurance policies are individual deductions, self-employed deductions, C corporation deductions, cash-value life insurance and non-qualified annuities, state income tax credits, and Health Savings Account/Medicare Medical Savings Account Premium Payments. Always check with a tax preparer for which credits or deductions apply best.
As a health care provider for the past 20 years, it is the sincere desire to assist clients in planning for in-home care or custodial/hospice care in accordance with the philosophy of occupational therapy. Robert Cardona Insurance Solutions Inc. promotes self esteem through emotional and physical well-being throughout ALL the human experience and would be honored to serve as the agent of choice for the consideration of the appropriate LTC product to meet every individual's needs. Purchasing a California Partnership Long Term Care insurance policy can help alleviate the physical, financial, and emotional burdens otherwise left on friends and family and allows the policy holder to maintain home independence, financial reliability, and, of course, peace of mind. While ensuring the ability to secure quality care, a CPLTC policy also protects family savings from outrageous LTC costs. Almost every aspect of a CPLTC policy can be customized to fit the policy holders wants and needs. Most companies even offer a discount if the applicant is healthy and/or applies with their spouse or partner. Some LTCi policies even pay the policyholder a benefit when they are no longer able to perform two out of six of the Activities of Daily Living (ADLs), which are bathing, dressing, eating, toileting, incontinence, and transferring.
Robert Cardona Long Term Care Insurance Solutions Inc. offers alternatives that break the cycle of leaving the LTC responsibilities to unsuspecting and unprepared offspring. This will ease future expenses, stress, and guilt over difficult decisions that arise when LTC becomes a medical necessity.