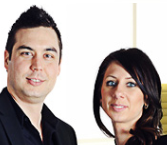 The Eskiws are top Edmonton realtors and they want their clients and prospective clients to have all the information and tools at their disposal
Edmonton, Alberta (PRWEB) October 23, 2012
Since they have had great success with their Facebook business page which now has many followers, Robert and Shawna felt they needed to continue to embrace social media. Facebook has over 1 billion users now, and Twitter, Pinterest and Linkedin continue to grow and be popular.
Many of their clients and friends have started using Google plus which is essentially Google's version of Facebook where people can follow each other and interact with pictures, video and text. Google plus in particular has several advantages over many of the other social platforms, such as faster load times, better video chat features, and better control over who sees your content.
Robert and Shawna intend to post interesting and useful information about real estate with some human interest and inspirational quotes added to the mix. There will be some real estate statistics as well for those that like to crunch numbers and analyse data. Their Google plus business page can be found here
The Eskiw's are top Edmonton realtors and they want their clients and prospective clients to have all the information and tools at their disposal. When researching Edmonton real estate, some people prefer to use social media where they can interact with their friends to get information as well as view recommendations. They just feel more comfortable in that social environment. Whereas others will just pick up the phone and call their realtor or use their realtor's website.
Regardless of how a client reaches them, Robert and Shawna are very experienced tech savvy agents with a passion to succeed. They would love to help anyone with their real estate needs and are always available to answer questions or provide guidance. If a person wants to buy a home or a building lot, they can easily search the Edmonton MLS listings on their website. Every listing in the Edmonton area is on the website which is updated every hour, so buyers can find the best listings instantly. In addition, they do not need to register to get access to this valuable information, however they can request that the listings that meet their criteria be emailed to them.
According to the Eskiws the Edmonton real estate market is strongly affected by the oil industry. With the Oilsands of Fort McMurray being relatively close by, and oil prices staying fairly high, the market will continue to be strong for the rest of 2012. However, the local market has recently cooled slightly due in part to the changes in mortgage qualification rules where buyers can only get a maximum amortization period of 25 years while they could previously get it over 30 years.
Robert and Shawna Eskiw can be reached at
Robert Eskiw RE/MAX Edmonton real estate
#102 12650 – 151 Avenue NW, Edmonton AB T5X 0A1 (780) 406-1200