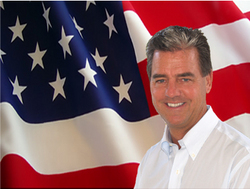 Hollywood, FL (Vocus) June 15, 2010
Robert Lowry, Constitutional Republican Candidate, running for the U.S. House of Representatives in Florida's 20th District, reflects on the Flag of the United States and what it symbolizes. June 14th of each year is Flag Day. This oft overlooked day of observance is devoted to the remembrance and reflection on the symbol of this great nation and its meaning to us personally.
"Our Nations Flag called the 'Stars and Stripes,' or 'Old Glory,' is one of the most complicated in the world. No other flag needs 64 pieces of fabric to make. The current flag has 13 red and white alternating stripes (representing the original 13 states) and 50 stars (each star represents one of the states of the Union) on a blue background." - Beverly Hernandez
Robert Lowry believes the American flag is more than a stitched work of fabric, just as the United States Constitution is more than just a piece of paper. The American Flag symbolically embodies the ideals upon which this nation rests, as well as the commitments of the citizens to the United States of America.
Wherever it is raised on this earth, whether for a day or for years, those sighting the 'Stars and Bars' know that there stands freedom, respect for human life, human dignity, and the safety and security that is assured by a people who will shed their blood for the welfare of others. Lowry believes that no other national symbol invokes the sense of security and well-being in another human as does the U.S. Flag the world over. Consider how the U.S. flag stands for Americans and the American way of life. 'Old Glory' symbolizes the collective ideals of this nation for man's right to establish government of his own making, and that human rights are established by God and not men.
Despots, dictators, and tyrants despise the sight of the United State flag, as it inspires those they rule to throw off their yokes of oppression, Lowry believes. No other such symbol has such power upon the human condition. People the world over know that to gather under this flag in times of strife and stress is the best chance for their securing aide, protection of life, and temporary care of their needs.
Let us take a moment and reflect this day upon our Nation's Flag and repeat silently:
"I pledge allegiance to the flag
of the United States of America, and
to the Republic for which it stands,
one Nation under God, indivisible,
with liberty and justice for all."
Robert Lowry
Candidate for U.S. House of Representatives
Florida Congressional District 20
http://www.lowryforcongress.com
Robert Lowry is running for the Florida's 20th District seat in the U.S. House of Representatives. His opponent is Democrat Congresswoman Debbie Wasserman Schultz. He resides in Hollywood, Florida with his family, and has been a small business owner in South Florida for the past 18 years.
# # #