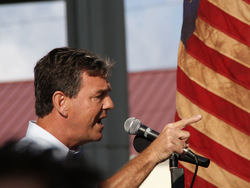 We are extremely pleased and proud to be recognized as the best choice for voters in this race
Hollywood, FL (Vocus) July 30, 2010
Earlier today Republican Candidate Robert Lowry received the endorsement of one of the largest papers in the United States. After interviewing all the Republican candidates, the Miami Herald editorial board endorsed Lowry in the Republican Primary Race for United States House of Representatives, District 20, Florida. The endorsement can be read here:
Candidate Robert Lowry endorsed by The Miami Herald
"We are extremely pleased and proud to be recognized as the best choice for voters in this race", says Lowry. "We are always excited when we receive endorsements from well-respected organizations. The best endorsement though, to me, has always been the many volunteers and voters that see value and conservative representation in our platform." Lowry stated.
Lowry who has been running for the past 18 months, is the frontrunner in the three way Republican primary for the District 20 Congressional seat. As the winner of the primary on August 24th, Lowry will face Debbie Wasserman Schultz in the general election on November 2nd.
Incumbent Debbie Wasserman Schultz has made numerous personal visits to District 20, where she herself resides, but has only made a few official visits to the District, in the past 5 years, the last of which was the raucus and critical town-hall meeting held after the passage of the health care bill.
Lowry may be the first true challenger that incumbent Debbie Wasserman Schultz has faced in her lifelong career in politics. "South Floridians have grown weary of political or party agenda superseding their voice. The people want a representative who will listen, and do what is right for the future of this country. There is just too much at stake right now", says Lowry.
Lowry's message of fiscal conservativism, less spending, and smaller government has seemingly resonated and galvanized voters from all three parties, spurring many independents and even democrats to change their voter registration. Many voters feel that the most important aspect of this election will be choosing a candidate who offers the best solutions to put our economy back on track and create the environment that will spur job growth. Lowry has been listening to the complaints of residents district-wide, and is advocating a comprehensive approach that will help resolve one of the fastest growing problems: structural unemployment.
Last week, Vice-President Biden announced that many of the millions of jobs lost will not return for 10 years, if ever. Lowry vehemently disagrees.
"If we stay on the failing economic course that Wasserman Schultz supports - spending money we don't have, expanding government to unsustainable levels, and creating new entitlements that can't be paid for - then the economy cannot recover. That is simply irresponsible governance." Lowry declares "The only way to lead a recovery is to convince the real engine of our economy, small business, to invest in itself, and that requires the government to get out of their way".
Lowry outlines a plan that includes a 24 – month tax free holiday for start up businesses, work vouchers for new hires, reducing corporate tax rate to compete with other industrial nations, and inspiring investment by reducing the capital gains tax. "It has been proven time and again that reducing tax on investment ultimately increases tax revenue by growing the economy. The government just needs to decide what they are trying to accomplish with taxes: raising revenue or redistributing wealth" said Lowry
Although Lowry is the front-runner, his campaign is leaving nothing to chance. "Our momentum continues to build, and volunteers continue to swarm into our ranks on a daily basis" one of the Lowry campaign's volunteer coordinators stated "People who have never been involved in politics before are joining up to walk districts, host candidate meetings, and talk to residents."
"If there was ever a time for America to vote for a non-political, business-oriented person that is time is now, and I am honored to be the people's choice." said Lowry
Lowry's website is http://www.lowryforcongress.com
The campaign can be reached at staff(at)lowryforcongress(dot)com.
###