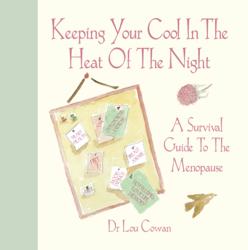 Speaks to you as a woman and reassures you with the calm authority of your favourite GP. Just the tonic for all of us facing the next phase of womanhood and crafted with enchanting sensitivity."
Bury St Edmunds, Suffolk (PRWEB UK) 26 October 2011
Robin House Books – In this delightfully illustrated and hugely enjoyable medical book, Dr Lou Cowan offers a new way of explaining and presenting a difficult subject, in an easy and enjoyable format. It combines authoritative and unbiased information in a contemporary style that is completely accessible to the non-medic. "This is the book I will recommend to my patients going through the menopause. Lou explains a difficult subject very well with lots of girly illustrations, which makes it a pleasure to read." Dr Janie Anderson – MBchB FRCGP MRCPCH PCME DFFP, General Practitioner.
Most women and their loved ones find the menopausal years a challenging time of life, physically, emotionally and relationally. This much needed book provides the answers, support and comfort any woman would want from her own GP, with current medical information on the management of the menopause and related conditions.
"This is an excellent book. It provides an easy-to-read, unbiased and thorough guide to the menopause." Dr Richard Davies – MA BMBCH MRCGP(UK) DCH DFFP, Director of General Practice Studies University of Cambridge. It addresses the worries and questions about HRT, provides advice on the prevention of osteoporosis and gives emotional and relationship advice in the most captivating and uplifting of reads. This is a book that will make you smile and long to turn the next page.
Other topics addressed include alternative therapies, general health, dietary and exercise advice together with a glossary of terms, useful resource links and beautifully coloured pages for the reader's own notes. This book, "Speaks to you as a woman and reassures you with the calm authority of your favourite GP. Just the tonic for all of us facing the next phase of womanhood and crafted with enchanting sensitivity." Teresa Orange – Author and Media Researcher.
The use of fun yet supportive colour illustrations throughout sets this work apart. It is ideal for any woman, or their loved ones, who want to understand the signs, symptoms and treatments of this challenging time of life. It will leave you informed and equipped. "Lou's book is a little treasure trove of delightful illustrations, sound facts and sensitive counsel that will enlighten and prepare pre-, peri- and post- 'menopausers' amongst us – and our loved ones – for this episode in the journey of life." Dr Mary Packer – MRCOG DFFP Gynaecologist and Women's Health Specialist.
About the Author
Lou is a GP in Suffolk, England, specialising in women's medicine, a practitioner for over 21 years. She also works as a GP tutor at Cambridge University Clinical School helping lead seminars on Women's Health, Ethics and the Law. She lives with her husband, Robert, their adorable Westie dog Lily and Alice, a very beautiful but headstrong cat.
Book Contents

What Is The Menopause And Why Does It Happen?
What Are The Signs And Symptoms Of The Menopause?
The Emotions Of The Menopause For You And Yours
The Question Of HRT
HRT... Is It For Me?
Osteoporosis The 'Hole' Story
Diagnosing And Treating Osteoporosis
Alternatives To HRT
Keeping On Top Of Your Health
Glossary
Addresses
Index
Your Notes
Book Details
Retail price: £10.99
ISBN: 978-0-9569747-0-9
72 pages
Softback
120 x 120mm
First published 16 August 2011
Trade distributor: Marston Book Services, Abingdon, Oxfordshire, United Kingdom. Email: trade(dot)enquiry(at)marston(dot)co(dot)uk
Book Availability
Widely available in Waterstone's shops and online from WH Smith, Waterstone's, Amazon, The Book Depository, Aphrohead and other quality booksellers.
About Robin House Books
Robin House Books is a new publishing house, providing readers with a fresh approach to key topics and other subject matter with a beautifully presented, informative and engaging style. Its initial range of books aim to address health topics in accessible, illustrated and full-colour format publications, giving readers authoritative medical insight into challenging subjects whilst being a joy to read.
For enquiries, please contact Robin House Books at info(at)robinhousebooks(dot)co(dot)uk or visit its website at http://www.robinhousebooks.co.uk.
Press Information and Review Copy
Members of the Press are invited to request a review copy. Book images and interviews can be arranged with the author. For further details, please contact the press liaison:
Robert Cowan
Robin House Books
robert(at)robinhousebooks(dot)co(dot)uk
###