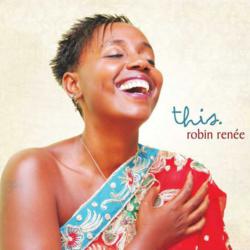 She has shared the stage with some of the world's best-loved kirtan singers, including Krishna Das, Wynne Paris, Dave Stringer, and Girish.
Atco, NJ (PRWEB) January 30, 2013
Menage a Music proudly announces the release of This.— the first full-length release by Mantra-Pop artist Robin Renée since her spirit.rocks.sexy compilation in 2009. The new recording is available through CD Baby, iTunes and other digital services, at live performances, and direct from Menage a Music.
This. features call-and-response chanting, soulful voices, and a rich soundscape of organic instrumentation blended seamlessly with light, heart-opening electronic ambience. The bright "Keshava" and upbeat "Kali Ma Potluck Singalong" are favorites of Robin's live kirtan chant events. Here, they join the traditional melody "Jaya Jaya Shiva Shambho," the beautifully simple "Blessed Be, Namaste," and three more tracks of energy-moving sound aimed at the World Music, World Folk, and New Age markets.
While Live Devotion (2007), her first recording dedicated wholly to sacred chant, was borne mainly of one inspired New York City recording session, the spark of inspiration for This. matured over time with the help of engineer, composer, producer, and multi-instrumentalist Jack Walker (heard on John Edward Cross Country) in his Bad Dog Digital studio in Wilmington, DE. Berklee College of Music grad and longtime Hawaii ashram resident Karttikeya handled drums and percussion, while Isitri Om Kati Brennan and Angela Cavallaro brought sound and spirit alive with dynamic backing and response vocals. The result is a joyful, flowing recording for meditation, movement, deep listening, and singing along.
Also a poet, artist, and writer, Renée's work has appeared in Curve Magazine, Songwriter's Market, PanGaia, Big Hammer #12, Blessed Bi Spirit – Bisexual People of Faith (Continuum Press), That Takes Ovaries – Bold Females and their Brazen Acts (Random House), and many other publications. Her earlier musical recordings are In Progress (2000) and All Six Senses (produced in 2002 by Scott Mathews who has worked with George Harrison, Elvis Costello, Barbra Streisand, and many more. A follow-up to This. planned for late 2013 to early 2014 will be .. and Everything Else, a modern rock/singer-songwriter release to continue the full-circle story of exploring consciousness in the midst of the stuff of everyday life.
Robin Renée's live performances run the gamut from rock to chant, all-acoustic to full-sound, and may flow seamlessly in between. Her kirtan concerts find new and traditional sounds to evoke stillness, bliss, and a sense of Oneness with All. She has shared the stage with some of the world's best-loved kirtan singers, including Krishna Das, Wynne Paris, Dave Stringer, and Girish.
For more information on Robin Renée and This., visit http://www.robinrenee.com.
About Robin Renée
Robin Renée is an independent performing songwriter, meditation and bhakti yoga practitioner, and a freelance writer. Her recordings include In Progress, All Six Senses, Live Devotion, spirit.rocks.sexy – Mantra-Pop headlines from the clairaudient dreams of the evocative Robin Renée, and This.