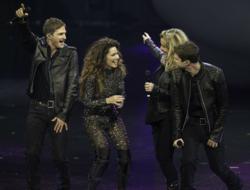 Las Vegas, Nevada (PRWEB) December 19, 2012
Robins Jean announced today that the crew of Shania Twain's "SHANIA: STILL THE ONE" show in Las Vegas is outfitted in the designer attire.
The first lady of country music arrived in Las Vegas to perform a two-year-long show at The Colosseum. Twain's stylist, Soyon An, worked together with Robin's Jean to create show-stopper outfits for the crew of musicians, dancers, and back up singers, including Twain's sister, Carrie-Ann Brown.
The crew is dressed in pieces such as the Perfecto Studs leather jacket, an aged-looking black leather jacket with silver studs, which retails for $999; Marlon Cuir Black jeans, five-pocket slim leg stretch cotton popline in Black Wax with signature tonal wings, which retail for $319; Motorcycle Black Diamond Crystals jacket, which is an aged-looking motorcycle jacket in Black with Black Diamond Crystals and signature wings, retailing for $1,799; and Robin's Jean leather belt, retailing for $179.
Robin's Jean feature a unique collection of jeans, jackets, tops, hats and belts for men and women. Represented by the gold wings logo, Robin's Jean captures Robin's childhood dream of freedom and flight. Robin arrived in Los Angeles in 1996. His skills combined with talent, caught the eye of the best denim companies in LA. In 2005, he decided to incorporate his passions for designing clothes, riding motorcycles and vintage cars with his fascination of the American Indians and the spirit that embodied warriors and their fight for freedom to create his own line, Robin's Jean. Today, Robin designs all his looks in the United States, and his unique pieces truly embody his love for freedom of the open road and the big sky.
For more information, visit Robin's Jean.
# # #