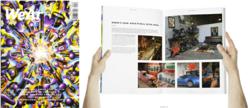 WeAr writer Klaus Vogel says: "CEO and founder Robin Chretien has created a unique work and brand environment."
Los Angeles, CA (PRWEB) January 18, 2013
Representatives for Robin's Jean announced today that its headquarters have been named the "Most Creative Fashion Headquarters 2012" by WeAr Magazine.
WeAr writer Klaus Vogel said: "CEO and founder Robin Chretien has created a unique work and brand environment. This HQ has it all: a museum, a factory, offices and a lifestyle building. Each of the components compliments the others and reflects the identity of the brand. Chretien's collection of motorcycles, neon signs, old advertisements, cars and other collectibles give this space its very special touch. Each piece tells a story. All combined, it creates a setting that is a pleasure to work in and visit. It reflects the core part of our business-the necessity for the real soul."
"Success in fashion requires the ability to present to customers a lifestyle, an entire world. Robin's Jean is a prime example, without investing millions of dollars, it still exudes a super-cool spirit and tells the brand's unique story," Vogel continues.
Robin's Jean feature a unique collection of jeans, jackets, tops, hats and belts for men and women. Represented by the gold wings logo, Robin's Jean captures Robin's childhood dream of freedom and flight. Robin arrived in Los Angeles in 1996. His skills combined with talent, caught the eye of the best denim companies in LA. In 2005, he decided to incorporate his passions for designing clothes, riding motorcycles and vintage cars with his fascination of the American Indians and the spirit that embodied warriors and their fight for freedom to create his own line, Robin's Jean. Today, Robin designs all his looks in the United States, and his unique pieces truly embody his love for freedom of the open road and the big sky.
For more information, visit Robin's Jean.