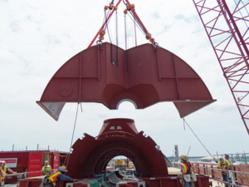 (PRWEB) February 26, 2013
Robins & Morton's Industrial Division won a National Excellence in Construction Award from the Associated Builders and Contractors (ABC) for the Kemper County IGCC Steam Turbine Generator Installation Project in Mississippi. The complex project was recognized in the Industrial $5-10 million category February 20, 2013 at the ABC national convention and previously received top honors at the state level.
The ABC Excellence in Construction Awards is the premier competition within the construction industry that recognizes outstanding construction projects across the United States. The winning teams and projects represent the "best of the best" for safety, quality, teamwork, planning and innovation. The ABC Excellence in Construction Awards competition encourages and recognizes individuals and companies that exemplify the high quality of merit-shop workmanship in their projects while upholding a dedication to building projects on time and under budget.
About Robins & Morton
Founded in 1946, Robins & Morton is a privately held engineering and construction firm that consistently ranks among the 100 largest U.S. contractors in Engineering News-Record Magazine. The company has also been named one of the best mid-sized companies to work for in America because of its worker-friendly and family-friendly practices. Robins & Morton is based in Birmingham, Ala. with offices in Dallas, Texas; Huntsville, Ala.; Orlando, Fla.; Nashville, Tenn.; Charlotte and Raleigh-Durham, N.C. For more information, visit http://www.robinsmorton.com.
Please contact me for a high resolution image.