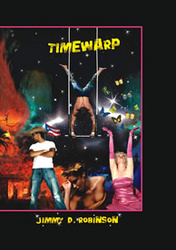 Contrary to the title, 'TIMEWARP' actually encourages the reader to live in the present and appreciate the moment upon us
Los Angeles, CA (PRWEB) October 8, 2008
American poet and lyricist Jimmy D. Robinson releases his fifteenth avant-garde poetry book entitled 'TIMEWARP.' In Robinson's newest collection of modern poems, readers will be uplifted and filled with enchantment as the words and phrases entice them into an enlightening consciousness about the wonderful positive realities in our world today. Through Robinson's enlightening word artistry, he inspires gratitude and appreciation for the earth, which is so abundant and giving to all of its inhabitants.
"Contrary to the title, 'TIMEWARP' actually encourages the reader to live in the present and appreciate the moment upon us," states Robinson. "No matter how bad one's current circumstance or station in life, hope is what sets us free. It is only through hope that we can rise above the pain and find love, music, and freedom in our own personal worlds."
'TIMEWARP' will be included The 51st Annual Grammy® Awards gift bag. Thanks to Sarah J.O'Hair of Distinctive Assets this is the fourth year running where Jimmy D. Robinson's books of poetry have been part of the Grammy's and other related events. "TIMEWARP" is currently available at Barnes and Noble and will soon be found online everywhere books are sold including Amazon.com and BN.com.
Transitioning to an alternate dimension, Jimmy D. Robinson's burgeoning music career is in gear at warp speed. Hitting the studio within the next couple of weeks will be vocal powerhouse CEEVOX (a.k.a. Clara Marens) to lay down the VOX on the brand new Robinson single titled 'In the Night.' CEEVOX is widely known for her dance club hits produced by Tracy Young on Ferosh Records. The upcoming 'In the Night' single will mark the second release from Robinson's J Music Group record label this year with major worldwide marketing and promotional plans in the works for early 2009.
Robinson's current dance remix package of 'A Tiny Shoe' is currently being promoted by Bobby Shaw Promotions to Billboard club panel DJs around the country and Power Promotions is working it in the UK. Part I featuring remixes by Tracy Young, Josh Harris and Bruno Linares has already been shipped to DJs and is available at Perfectbeat.com and Masterbeat.com for purchase. Part II of the 'A Tiny Shoe' remix package is due out in a few weeks time and will feature new remixes by Twisted Dee, DJ Paulo & Todd Dutkevitch and Rafael M.
About Jimmy D. Robinson:
Full of despair, destitute, and homeless, Jimmy D. Robinson began creating descriptive sentences in his mind and then penning them on scraps of paper or anything he could find. Much of the poetry in his books was written during these times. Gazing at the moon, the stars, the clouds, the sun, searching for anything that would give him hope--hope to live, to overcome, and to triumph. It can be said that poetry saved Mr. Robinson's life for when he began writing, he was overwhelmed with feelings that he hadn't experienced in a long time. Poetry made him reflect and look inward and gradually, he found the more he wrote, the better he felt. It was never his intention to be a poet; he just did what came naturally. By publishing his books, Jimmy Robinson wants his readers to know that no matter what depths one can sink to, there is always a chance for change. His came in the form of the written word, for others it may be another creative force, but be assured that in every living human being there is always a chance to hope and to change.
Robinson's works have earned him a sterling reputation in the world of publishing and music. Widely recognized as one of today's most prolific writers, Robinson's poems, musical stories, and lyrics reflect the hardships he has endured and the triumphs overcoming them. Penning his words with stark reality--writing of the human condition--loneliness, love, desperation, and hope, Robinson uses his craft to convey his celebration of life. For several years, Robinson's highly praised poetry books have been gifted to presenters and nominees at the Grammy® Awards, the Radio Music Awards, the American Music Awards, and the Latin Grammy® Awards. Robinson's book and music collection is often distributed to children in U.S. school systems as well as those in high crime areas, prisons and shelters. His works have been donated to many people as far as Africa and across the continent of South America. For more information please visit: http://www.jimmydrobinson.com and http://www.atlasbooks.com/jimmyland.
For media inquiries:
Jim Strzalkowski
MEDIA GIANTS
(310) 860-6205 Phone
http://www.mgiants.com
###