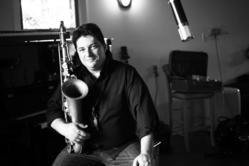 "Loyot has achieved a lot on this Sideman Sez album. He creates a huge, powerful R&B sound and he keeps it going strong from beginning to end." - Bill Copeland Music News
Boston, MA (PRWEB) January 24, 2013
With SIDEMAN SEZ, long-time Producer/Multi-instrumentalist and multiple Boston Music Award winner Rob Loyot takes his turn at the mic, delivering a Rhythm and Soul release in the style of Ray LaMontagne and Marc Cohn. The seed for the project was planted almost 15 years ago. As a "sideman" and bandmate for some amazingly talented songwriters over the last 25 years, in bands that played original music almost exclusively, Rob struggled with the fact that some of his favorite songs had never even been recorded. The songs, all borrowed from great songwriters that Loyot has worked with over the years, demonstrate a diverse set of influences from Little Feat's New Orleans gumbo of "Take It Easy Baby" and the Gospel-inflected "Let It Slide" to the Jack Jonhson-esque "Passerby" and even giving a nod to Steely Dan with the dense chord changes of "Sweetest Eyes" and the tight funkiness of "Swing Out West." In short, Sideman Sez is a loving nod to Loyot's own experience as a sideman, and to sidemen in general.
Loyot's 25+ years of experience as a saxophonist/vocalist/percussionist provide the glue that unifies the diverse material on the album, along with a combination of strong melodies and powerful horn lines backed up by a killer rhythm section comprised of long-time New England session players. In particular, Loyot draws heavily on his former bandmates from one of Boston's favorite groups, Entrain, whose members have included such notables as multi-Grammy winner John Cruz, Tom Major (Bo Diddley, South Side Johnny, Mick Taylor), Judd Fuller (Peter Wolf, Rodney Atkins), and Brian Alex (Donna Summer, Missing Persons), giving the album a depth of feel that only comes from veteran players.
Loyot explains, "I have been performing as a Multi-instrumentalist/Vocalist for nearly three decades, and Producing/Engineering for the last 15 years. I have spent the last 10 years developing my personal recording studio, Noise in the Attic, where I have been delivering compelling recordings on par with major label releases for a number of clients. In 2008, NITA client Girls Guns and Glory reached #8 on the AMA charts with Inverted Valentine, which I produced and engineered. As a Professional Musician, I have performed for crowds of 10,000-plus, played on or produced over 100 albums, and played more than 3,000 live shows. I have shared the stage with Carly Simon, Bo Diddley, Dave Mason, and James Taylor and have been a member of bands that have opened for the likes of Joan Jett, Hall and Oates, Taylor Dayne, Cheap Trick, Spin Doctors, David Crosby, John Entwistle, Letters to Cleo, NRBQ, Meatloaf, and The Subdudes. To me, this all comes together in a logical way in my new musical project, Sideman Sez."
You can learn more about Sideman Sez at http://www.robloyotmusic.com
If you have any questions, comments or would like to set up an interview please contact Melissa Zeigler: melissa(at)powderfingerpromo(dot)com at Powderfinger Promotions.