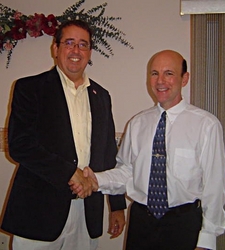 Bill Hudak shares the same concerns for our country and our District that inspired me to run for Congress
Danvers, MA (Vocus) October 10, 2010
The campaign of Bill Hudak, http://www.hudakforcongress.com, candidate for U.S. Congress in the 6th Massachusetts Congressional District, announced today that Rob McCarthy, former congressional candidate in the Massachusetts 6th Congressional District, supports Bill Hudak for the United States Congress.
"Bill Hudak shares the same concerns for our country and our District that inspired me to run for Congress," said Rob McCarthy. "America is now on an unsustainable path of deficit spending, over regulation, job killing taxation and government over-reach into health care. I've known Bill for over twenty years and am confident that he'll fight hard to stop the spending madness in Washington, reduce the deficit and will work tirelessly to make sure more of our hard earned money stays in our pockets instead of being sent to Washington. Bill Hudak will bring common sense and balance back to Congress. He is someone that I personally believe will be responsive to the voters of our District and someone who will be able to step into action on the day he is elected to Congress."
"I am humbled and extremely grateful for this show of support," said Bill Hudak. Rob's years of service as a proud member of the United States Marine Corps is a testament to his honor and love of this country, and he is and will always be a hero in my eyes. Since we share the same values and see eye-to-eye on virtually all of the issues facing our country, working together, I'm absolutely certain that we will be able to unseat a man who has lost touch with his District."
About Rob McCarthy
Rob is a graduate of Boston College and New England Law in Boston. He has a bachelor's degree in political science and a juris doctorate in law. After law school, Rob voluntarily joined the U.S. Marine Corps and was commissioned an officer. While in the Marine Corps, Rob was trained in leadership, warfare and military law at Officer Candidate School in Quantico, VA, The Basic School in Quantico, VA and Military Justice School at the Naval War College in Newport, RI. He was honorably discharged from the Marine Corps after reaching the rank of Major.
Currently, Rob operates a small law practice in Saugus where he lives with his wife and three children. He is an elected member of the Saugus Republican Town Committee and has been active in local politics for a number of years. Rob is licensed to practice law in the Commonwealth of Massachusetts, the military courts of the United States, the United States Court of Military Appeals and the United States District Court in Boston.
About Bill Hudak
Bill Hudak, http://www.hudakforcongress.com, candidate for U.S. Congress in the Massachusetts 6th Congressional District, is a practicing attorney with more than 27 years of experience. Licensed in Massachusetts, New York, North Carolina and Florida, as well as in multiple Federal District Courts and the United States Supreme Court, Bill's consumer advocacy efforts have earned him a reputation as a lawyer practicing with "truth, honor and integrity." A 25-year resident of the 6th Congressional District in Massachusetts, Bill is running for office to restore balance to a Congress that is out of step with the needs of its citizens.
For more information about Bill and his campaign to bring common sense to the U.S. Congress, visit http://www.hudakforcongress.com and join us on YouTube, Facebook and Twitter.
# # #