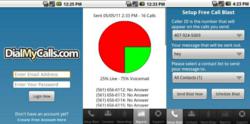 Jupiter, FL (PRWEB) September 20, 2011
Political campaigns are gearing up for the upcoming 2012 elections and now they will be able to send their robocalls from any Android device. Current members of DialMyCalls can head over to the Android Market and download the new app at absolutely no cost – free is good! Once installed, you are able to create new recordings, add contacts, create contact groups and then send your voice message out to thousands of people.
On top of the DialMyCalls Android app being available to download for free, you can also give the service a test run with their "free option." Upon signing up, you can record a thirty second robocall and send it to 25 people, once a week – it's a nice way to give their service a try.
"The purpose of our new Android app is to provide a more efficient and convenient way to make robocalls" states David Batchelor, owner of DialMyCalls. "Thousands of political campaigns use our service and we figured a mobile app would make it that much easier for them to send millions of voice messages to potential voters."
DialMyCalls continues to expand its robocall services with the launch of their free mobile app for the extremely popular Android platform. Political calling has now entered the mobile age and with the DialMyCalls Android app, everyone can send out a voice message to hundreds of thousands of people within minutes.
DialMyCalls runs on all Android devices, including mobile phones and tablets. It is available for free download in the Android Market and can be found at DialMyCalls.com.
About DialMyCalls
DialMyCalls.com has been sending out mass notifications since 2006 and has brought the power of robocalls to everyone. The company strives to offer an efficient, cost-effective and quality service for all of its users. Their team of developers are constantly looking for ways to improve their service and the new Android app is definitely a step in the right direction.
For more information, please visit http://www.dialmycalls.com or call 800.928.2086. You can also email tims(at)ontimetelecom(dot)com for additional information.
###