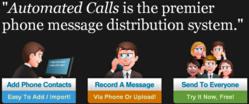 Jupiter, FL (PRWEB) June 15, 2012
The battle for President of the United States is heating up as current president Barack Obama and presidential candidate Mitt Romney try to gain the attention of potential voters all across the country. Both candidates are using services like AutomatedCalls to send out millions of robocalls to citizens in hopes of campaign support.
AutomatedCalls.com sets itself apart from the rest of the robocalling providers by offering the most efficient and cost effective service on the market. Prices on robocalls go as low as 1.25 cents per call – talk about a great deal when you are sending out millions of messages at a time.
"Robocalling in the 2012 elections has already kicked off in full force and we want to offer politicians and their campaign managers an extremely cost effective and easy political notification service" says owner David Batchelor.
Political robocalls have become a key part of winning big elections such as the upcoming one for President of the United States. AutomatedCalls hopes to provide its state of the art notification service and extremely low pricing to politicians around the country.
Tap in to the potential of boosting your chances of winning elections by setting up a political robocalls campaign provided by AutomatedCalls.
About AutomatedCalls
AutomatedCalls.com has quickly become one of the top robocalling providers in the United States and Canada. The company continues to pride itself on offering users the most affordable and efficient robocalls available. With the upcoming 2012 elections in the United States, AutomatedCalls looks to play a big role in aiding politicians to victory by sending out millions of automated political calls.
For more information, please visit http://www.automatedcalls.com or call 888.550.3021. You can also email support(at)automatedcalls(dot)com for additional information.
###