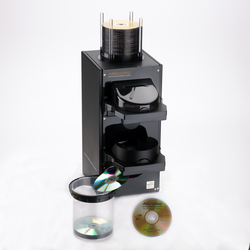 A key prosumer disc publishing requirement is to fully automate both data recording and labeling processes
London, England (PRWEB) October 8, 2008
Aleratec Inc., leading developer and manufacturer of "Prosumers' Choice" solutions for the USB, Flash, HDD, Blu-ray, DVD/CD, duplicating, and publishing markets, announced today at the London LightScribe Duplicator Day event its new Aleratec DVD/CD RoboRacer LS Duplex™, the first in the industry LightScribe disc publisher that automatically copies data, flips the disc over and LightScribe labels each disc. With few moving parts, it has maximum reliability and is capable of up to 100 unattended direct to disc LightScribe labels and disc copies. Just load it with 100 blank LightScribe discs, use your PC to select the disc image and label with the powerful Aleratec Disc Publishing Suite. Enter the number of published discs needed and DVD/CD RoboRacer LS Duplex will automatically produce up to 100 DVD/CD copies with silk screen quality labels with no operator intervention.
"Since the introduction of LightScribe, publishing complete discs meant that the discs had to be manually flipped over after burning data or LightScribe labeling. Cost effectively making the disc flipping process truly automatic was the technological challenge," stated Perry Solomon, Aleratec President and CEO. "With the DVD/CD RoboRacer LS Duplex, Aleratec innovation completes the disc loading, unloading, and flipping process automatically with only 6 moving parts completely enclosed in a low cost and attractive desktop unit. Now true unattended LightScribe publishing is affordable and readily available for all Prosumer, Government, Education, Worship, SMB users, anyone looking for an economical way to project their message on attractive, professional, silk screen quality labeled DVDs or CDs."
In LightScribe optical drives, the laser burns one side of the disc only - either while labeling or data writing. LightScribe discs have a data side and a LightScribe label side. To do both data recording and LightScribe labels, discs must be flipped over and re-introduced in the LightScribe drive.
"A key prosumer disc publishing requirement is to fully automate both data recording and labeling processes", stated Kent Henscheid, LightScribe Marketing Manager. "This new Aleratec innovation delivers fully automatic operation and affords the benefit of unattended LightScribe disc publishing to a wide array of users, including small business."
The Aleratec DVD/CD RoboRacer LS Duplex (Aleratec Part No. 280111, Ingram Micro SKU V06234, Tech Data SKU 90844M), proudly assembled in the USA from components sourced globally, automatically records data and LightScribe labels up to 100 discs completely unattended at a low Estimated U.S. Retail Price of $1049.
U. K. customers only, Free Shipping Offer (excluding customs, duties and VAT) go to Aleratec Rebates for details. Offer valid with the purchase of Aleratec LightScribe Publishers (not media) for the period October 8th to October 31st 2008.
The full line of Aleratec solutions, and accessories is featured at AAFES, Adorama, Amazon.com, B&H Photo Video, Best Buy, Buy.com, CDW, Dell, Hewlett Packard, Insight, J & R, Mac Connection, MacMall, Meijer, Micro Center, NewEgg, Office Depot, PC Connection, PC Mall, PC Nation, ProVantage, Quill, QVC.com, Ritz Camera, Staples, Tech Depot and Wal-Mart in addition to other leading U.S. retailers. Government and Education customers may purchase from Government and Education Specialists including AAFES, B&H Photo Video Gov, Best Buy Gov/Ed, CDW-G, CompuCom, EnPointe, GovConnection, GTSI, Insight Gov, PC Mall Gov, Pomeroy, Sayers, Shi.com, Softchoice, telcobuy, TIG, and Unisys. All products are available to resellers in the U.S. through D&H Distributing, Ingram Micro, and Tech Data; in Canada through D&H Canada and Ingram Micro Canada; in Latin America and the Caribbean through Tech Data Miami. All international sales requests should be made to internationalsales@aleratec.com. Complete information available at Aleratec
About Aleratec:
Aleratec Inc. is a leading developer and manufacturer of "Prosumers' Choice" solutions for the USB, Flash, HDD, Blu-ray, DVD/CD duplicating, and DVD/CD publishing markets. Exciting new disc duplicating and disc publishing products and optical recording media are establishing a higher standard in the industry offering professional strength solutions at consumer prices that are exceptionally easy to use, creating the ultimate "out of box" product experience. Aleratec, Inc. is headquartered at 9851 Owensmouth Avenue, Chatsworth, CA 91311. For more information visit Aleratec. E-mail sales@aleratec.com. U.S. Toll Free Phone: 1-866-77-ALERATEC, International Phone: +1-818-678-6900, or International FAX: +1-818-678-0486.
About LightScribe:
LightScribe Direct Disc Labeling offers consumers and businesses a simple, no-hassle way to burn professional-looking, silkscreen-quality labels on their CDs and DVDs. LightScribe extends optical media, recorders and software through an integrated system of media with special laser-sensitive coating, laser control and imaging drive modifications, and labeling software enhancements. LightScribe uses the same laser that burns data in the disc drive to create precise, iridescent labels. LightScribe technology was developed and patented by HP. A business unit of HP, LightScribe licenses its technology to optical industry leaders in drive and media manufacturing and to hardware, media and software brands. Additional information about LightScribe is available at LightScribe.
###