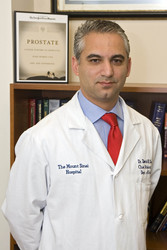 I try to stay away from the lateral tissues as much as possible, because that's where you have most of your important structures during the surgery
New York, NY (PRWEB) October 30, 2008
Dr. David Samadi, Chief of Robotics and Minimally Invasive Surgery at Mount Sinai Medical Center in New York, got into very specific details, with demonstration videos, about conducting robotic surgery during a recent OR-Live webcast. Samadi explained some of his own specialized techniques he's developed from doing more than 1,500 robotic prostatectomies.
One of the great advantages of robotic surgery, according to Dr. Samadi, is nerve sparing. Nerve sparing is crucial for retaining sexual function since severing or damaging the cavernous nerves causes erectile dysfunction. These nerves course laterally along the prostate and rectum and provide nerve connections to the proximal penis deep in the pelvis. If they are damaged, erectile function is, too. Put simply, preserving the cavernous nerves preserves sexual potency. There are treatments for erectile dysfunction resulting from radical prostatectomies but every patient, of course, wants to retain natural sexual function after prostate surgery.
The robotic surgery technique inadvertently spares the nerves responsible for sexual function as well as continence. Since there is no blood in the operation field in robotic surgery, Dr. Samadi can clearly see the neurovascular bundles and as a result, the nerves are kept entirely intact. Therefore, the visual accuracy gained during robotic surgery outweighs the benefits of tactile feedback normally associated with open prostate surgery.
There are, however, some high-risk prostate cancer patients, ones with Gleason 8 scores for instance, whose cavernous nerves should not be saved so that all cancerous tissue is removed. An endorectal MRI helps a surgeon decide whether it's best to spare the nerve, or not, in high-risk cases. Dr. David Samadi recommends an endorectal MRI for patients with high disease levels at apex, mid and base sections of the prostate. In describing the actual nerve sparing procedure in the OR-Live webcast, Dr. Samadi said, "I do most of the nerve sparing posteriorly, so when I take the pedicle, that plane is pretty much dissected and I reduce any risk of damage to the neurovascular bundle."
Another issue Dr. Samadi discussed during the webcast was the opening of the bladder neck. "I like to open the bladder neck early," said Samadi, who applies a principle from open surgery in this instance. "We learn from open surgery that you always go from known to unknown, so unlike many robotic surgeons, who work from lateral to medial and may be surprised by a big median lobe, I like to see exactly what the bladder neck looks like very early on so there won't be any surprises." Samadi emphasizes a fundamental belief to which he adheres. "I try to stay away from the lateral tissues as much as possible, because that's where you have most of your important structures during the surgery," he said.
Dr. Samadi has developed a new approach that helps him get to the tip of the seminal vesicle, which is not to cut the vas deferens too early. Using video to demonstrate, Dr. Samadi explained, "You can see while I have a chance to cut the vas deferens, I keep holding onto it because it's going to guide me as to where the tip of the seminal vesicle is. This is critical, especially if you have a very long seminal vesicle. I really don't like to leave the tip of the seminal vesicle."
Samadi responded by saying, "Once we get to the vas deferens and seminal vesicles, the rest of the surgery is completely done with cold scissors, without any cautery, because as we know any kind of cautery can damage the tissues at any point of this operation." He added that robotic surgery is advantageous in helping surgeons avoid ripping the delicate seminal vesicles, which are often torn during laparoscopic and open procedures.
In conclusion, Dr. Samadi said that, ultimately, robotic surgery affords patients improved quality of life on a number of fronts. The surgical operation is shorter, the recovery time is shorter, the blood loss is significantly less and the hospital stay is usually only a day with a robotic prostatectomy. Within a month to six weeks, patients know exactly where they stand regarding the existence of cancer. Samadi summed it up this way: "There is no greater joy as a surgeon to look at your patient and say, 'You are cured. Your PSA is undetectable and you can move on'."
About David B. Samadi M.D.
David B. Samadi, M.D. is Chief, Division of Robotics and Minimally Invasive Surgery at Mount Sinai School of Medicine in New York City. He is a board certified Urologic Oncologist, specializing in the diagnosis and treatment of prostate, kidney, bladder, and bladder cancer, using minimally invasive procedures like da Vinci surgery. If you would like more information about Dr. Samadi's state-of-the-art treatment options, including the robotic prostatectomy, please don't hesitate to call him at 1-888-Robot10 (1-888-762-6810), or visit him on the web at http://www.roboticoncology.com.
###