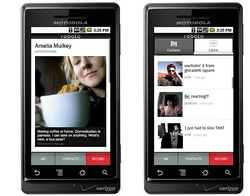 San Francisco, CA (PRWEB) February 24, 2010
Particle, the company that builds massively small products for Web and mobile, today announced the launch of its Robo.to application for Android. The mobile application enables users to instantly record and share real-time video status updates from their mobile phone, while also syncing their Robo.to profile with mobile address book contacts, for a completely integrated experience.
Among the Robo.to for Android features is Mood Ring, which displays a caller's most recent video status update and provides more context than a static image or text to begin the conversation at a deeper level. Robo.to for Android also allows users to record video status updates from anywhere on their phone and instantly publish to their network for true real-time visibility in social networking.
Features of the Robo.to Android application include:

Contact List: Navigate directly from a Robo.to contact card to initiate an action
Import Contacts: Import mobile contacts to Robo.to profile
Address Book Sync: Automatically sync the native address book in your mobile device with your Robo.to account, so all Robo.to users are added to your Robo.to contacts
Record & Publish: Initiate Robo.to record from any screen on your phone and publish the video to Robo.to profile
Mood Ring: Displays caller's latest status update as the phone rings
"Pre-Flight" Information: See a contact's latest Robo.to status update before connecting by call, text or email
Robo.to Card: Watch as other users "Tag," "Like," and "React" to your updates—creating a real-time virtual calling card
Contact Updates: Automatically update contact information for people in your network, so you always have the latest phone numbers, emails and social networking accounts
"Since its inception, Particle has focused on designing applications that tie into the way people live their mobile lives," said Aubrey Anderson, Particle co-founder and CTO. "Robo.to provides a truly unique, social experience that brings real-time authenticity to social networking. This vision is fully realized with mobile integration as Robo.to now goes anywhere at any time."
Android's recent rise in popularity reinforces the effectiveness of its open development platform, allowing developers to differentiate applications and add unique features. For example, Robo.to for Android's Mood Ring transforms what used to be a standard routine of making and receiving calls and reinvents the process for a new generation.
Launched in May 2009, Robo.to records four-second video clips that are accompanied by text status updates and integrate with social media sites like Twitter and Facebook to bring a new type of personal expression, creativity, and real-time legitimacy to social networking.
###