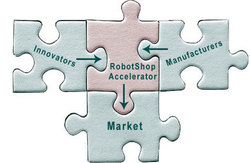 Technology evolves so rapidly that we need to find a way to accelerate bringing inventions to market while minimising risks and eliminating common obstacles.
(PRWEB) April 21, 2011
RobotShop Distribution Inc. officially launches its Technological Accelerator to help inventors and developers commercialize their products more rapidly.
Robotics is considered by experts around the globe as the critical and strategic industry of the 21st century, a generator of new companies and creator of new quality jobs. RobotShop offers over 5000 products, specialized in personal and professional robotics, and represents over 200 manufacturers in this field. The company caters to Canada, the Unites States of America and Europe with a network of warehouses and optimized logistics. RobotShop is also considering expanding into Asia and Latin America. The RobotShop.com platform is considered unavoidable for the supply of robots and robotics parts.
«We have been receiving requests from inventors and developers for many years to help them bring their products to market, but due to lack of resources, we only accepted products ready to be distributed», said Mario Tremblay, CEO and founder of RobotShop. «We have come to the realization that researchers are bogged-down by the structure and resources required to commercialize their products. Think about students with a patent in their pocket once they finish their Masters or PhD; many do not know where to start; they must create a company, work the brand, secure funding, put in place manufacturing and a distribution network, launch a marketing campaign, etc. Many products never see the light of day and remain shelved due to the sheer weight of these tasks. Technology evolves so rapidly that we need to find a way to accelerate bringing inventions to market while minimising risks and eliminating common obstacles. We must change the way we innovate and the way we do things. We need to avoid having innovators re-invent the corporate wheel each time. For these reasons, we have decided to to put the RobotShop.com platform, along with our business relationships, at the service of inventors. Previously recognized as the principal source for robotics products, RobotShop is now also a prime location to commercialize your invention globally, from A to Z."
RobotShop is determined to open its platform at the service of technological innovation and the RobotShop Accelerator is only the first step. The functioning of the accelerator is simple and consists in pairing inventors with manufacturers with the goal of distributing the products globally via the RobotShop website, the most highly visited robotics website in the world. RobotShop will select the most promising projects, help inventors target the correct market segments and set the retail price after which investments will be made with strategic partners to create a prototype and the first production run of products ending with its commercialization.
For further information about the RobotShop Technological Accelerator (RTA), visit: http://www.robotshop.com/accelerator.html.
About RobotShop Distribution Inc.
RobotShop is the world's Leading Robot Store for Personal and Professional Robot Technology. It provides personal and domestic robots, professional robots, development platforms and robot kits and specialized robotic parts. RobotShop is also an important force in robotics education and research. RobotShop is undertaking a broad strategic program aimed at promoting the evolution of robotic processes within our society, leading to the creation of a whole new world of possibilities: Robotics at your service!®
For more information on RobotShop, please visit http://www.robotshop.com.
###