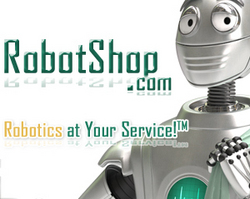 On top of the existing discussion forums, the RobotShop blogs will allow our company to increase our visibility on the Internet and also provide a new dimension to our online sales activities
Boisbriand (PRWEB) February 11, 2010
Robotshop Distribution Inc. announces today the launch of its new portal Robotshop.com and its robotics news blogs in French and English.
RobotShop is a leader in the online sale of personal or domestic robots and professional robots since 2003 with employees and warehouses in North America. The company also ship worldwide.
The RobotShop website refers to a number of robotic products such as robot vacuums, robot mowers, pool cleaning robots, robot toys, security and surveillance devices, professional robot development platforms and robot parts or kits. RobotShop.com also offers a repair center for robots – known as the Robot Hospital – which brings robots back to life.
"On top of the existing discussion forums, the RobotShop blogs will allow our company to increase our visibility on the Internet and also provide a new dimension to our online sales activities", said Mario Tremblay, president and founder of RobotShop. "The integration of Vincent Abry, an expert in Internet marketing, to our team will provide new momentum to RobotShop's Web 2.0 initiatives", he added.
Vincent Abry, a blogger specialized in Cyber Marketing, joins the ranks of RobotShop's Web intelligence Department. Vincent Abry is an editor of many blogs and Websites since 1999 and acts as author and consultant in Web marketing for many companies in Quebec and France. « It is a marvelous challenge for me to join a winning team and to participate in its development on the front lines of blogs and social networking", stated Vincent Abry.
"A major player in online robotics such as RobotShop owed itself to take a plunge into Web 2.0 to not only share with and inform the public, but also to increase its visibility and presence on the Social Web and in search engines. The extensive experience of the RobotShop team in robotics, coupled with a technological watch blog, will truly bring out the best and satisfy millions of people around the world who are passionate about robots", he added.
About RobotShop Distribution inc.
RobotShop is a closely held company and a leader in the distribution of personal and professional robot technology. It provides personal and professional robots, development platforms, robot kits and specialized robotic parts. RobotShop is undertaking a broad strategic program aimed at promoting the evolution of robotic processes within our society, leading to the creation of a whole new world of possibilities: Robotics at your service!TM
For more information on RobotShop, please visit http://www.robotshop.com.
To consult the RobotShop blogs, please visit http://www.robotshop.com/blog
###