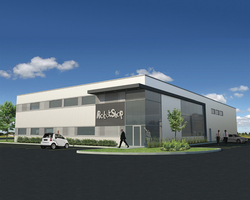 The new headquarters will allow us to respond to the tremendous growth of RobotShop
Mirabel, QC (PRWEB) March 9, 2011
The first shovel full of dirt, symbolic of the beginning of construction work on the new RobotShop headquarters, took place at 305-18005 rue Lapointe, in the heart of the Proservin integrated industrial park, in Mirabel. Mr. Mario Tremblay, president and founder, and Ms. Sandra Fradet, vice-president, were happy to mark this event along with the Proservin Construction team, the mayor of Mirabel, Hubert Meilleur, employees and other dignitaries.
"The new headquarters will allow us to respond to the tremendous growth of RobotShop," said Mario Tremblay. The construction of the new headquarters, a 15,000 square foot two story building involving over 2 million dollars in investment, was entrusted to Proservin inc. Judith-Ann Bélanger, vice-president of Proservin, proudly welcomed her new clients.
The mayor of Mirabel was particularly happy that RobotShop selected Mirabel, since robotics is considered, by experts the world over, to be a critical and strategic market for the 21st century, a generator for new business ventures and an important creator of quality jobs. The city of Mirabel is honored to receive a company that will directly contribute to its economic developement; we are very grateful to Mr. Tremblay, Ms. Fradet and their team.
About RobotShop Distribution Inc.
RobotShop is the world's Leading Robot Store for Personal and Professional Robot Technology. It provides personal and domestic robots, professional robots, development platforms and robot kits and specialized robotic parts. RobotShop is also an important force in robotics education and research. RobotShop is undertaking a broad strategic program aimed at promoting the evolution of robotic processes within our society, leading to the creation of a whole new world of possibilities: Robotics at your service!®
For more information on RobotShop, please visit http://www.robotshop.com.
# # #