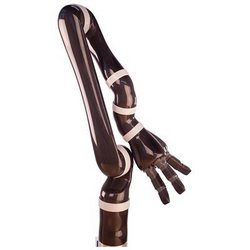 The objects that surround us are created to work with human physiology and robots require highly dexterous robotic arms, such as JACO, in order to properly serve us
Boisbriand, Quebec (PRWEB) October 28, 2010
RobotShop Distribution announces today that they have signed a global exclusivity agreement with Kinova Techhnology in order to sell the academic version of the JACO robotic arm on the Internet.
RobotShop has been working for more than 2 years to increase their professional robotics product offer in order to better cater to customer requests. Simplified, fluid and safe manipulation is a market that offers a lot of potential and virtually unlimited applications. With the addition of the revolutionary JACO robotic arm to their growing product offer, RobotShop adopts the strategic plan common to both partners. Kinova was seeking a specialized partner able to offer a turn-key solution with global market appeal. It was during the development of the Quebec robotics innovation cluster "IROQ" (Innovation Robotic Quebec) that the two companies reinforced their partnership.
"It is inevitable that in the future, robots will need to work more and more in the presence of humans, in all sectors of society," said Mario Tremblay, president and founder of RobotShop. "The objects that surround us are created to work with human physiology and robots require highly dexterous robotic arms, such as JACO, in order to properly serve us. We are honored to have the opportunity to represent Kinova Technology and are convinced that their technology will allow our professional clients to more rapidly innovate in their robotic projects requiring manipulation."
JACO is constructed from carbon fiber, is very light (5kg), offers 6 degrees of freedom, a maximum payload capacity of 1.5kg and has a reach of up to 0.90m. It is easy to control using a 3 axis, 7 button joystick, and offers an API for software control of the arm. The API is the principal element which allows robotics researchers to experiment. This API not only allows you to configure advanced parameters for JACO, but also allows you to integrate JACO into your existing system. Furthermore, you will be able to pilot JACO using your preferred navigation system/software, to program automated movements and analyze data coming from JACO core system. The API is provided with complete documentation and source code, which is Windows compatible. JACO is a robotic arm that is modular, silent, light, discreet and safe. It is even weather resistant. The arm respects all security standards and is already in use on wheel chairs by persons with limited mobility. The flexible three fingered multifunction hand can assist in daily functions such as holding utensils, grasping a glass of water or even repositioning your reading glasses.
The JACO robotic arm is unique on the market and deserves the attention of robotics research laboratories around the world.
"The assistance and proximity robotics market is in full expansion, but there was unfortunately no physical platform that was efficient and complete enough to accelerate development and reduce integration costs with regards to manipulation. JACO is meant as a catalyst for this new generation of robotics; it is efficient, modular and safe, the perfect springboard for integration of new robotics components," said Charles Deguire, president of Kinova Technology. "We can also integrate JACO on complementary systems: a mobile base, rails, humanoid robots… This can therefore create new solutions much more rapidly. This is why the entire Kinova team is proud to offer their platform to other developers via RobotShop, a world leader in the distribution of robotic products, and to contribute to making robotics more accessible and attractive!"
About Kinova Technology
Founded in 2006, Kinova undertakes it's activities by creating solid partnerships with professionals working in the robotics, clinical and scientific fields. With the support of its precious partners, the company created the first prototypes of the JACO® arm in 2007, successfully surmounting many major technology challenges in a very short period of time. In 2008, the company concentrated on protecting its intellectual property worldwide in order to ensure that its first designs are patented. At the end of 2009, Kinova launches its robotic arm on the market in the field of rehabilitation and in 2010 launches the academic version.
For more information on Kinova, visit http://www.kinovarehab.com
About RobotShop Distribution Inc.
RobotShop is a closely held company and a leader in the distribution of personal and professional robot technology. RobotShop is undertaking a broad strategic program aimed at promoting the evolution of robotic processes within our society, leading to the creation of a whole new world of possibilities: Robotics at your service!®
For more information on RobotShop, visit http://www.robotshop.com
Contact:
Elizabeth Pecharka, External Relations
RobotShop Inc.
###