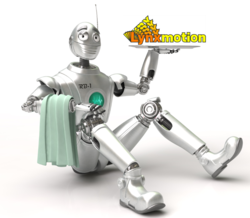 Lynxmotion products are very versatile, high quality, and respond perfectly to 21st century educational needs.
Swanton, VT (PRWEB) September 12, 2012
RobotShop announced today the acquisition of Lynxmotion Inc., a manufacturer based in Illinois that designs and produces a variety of robot parts and kits destined for the ever growing educational market.
RobotShop has been the most important distributor for Lynxmotion in Canada, USA and Europe, since 2003. Lynxmotion's customers will greatly benefit from the incorporation of its activities into RobotShop's core logistics and global infrastructure. This vertical integration will allow for greater control of costs and inventory, as well as a centralized and optimized service structure.
"It's with great pride that we take over Jim Frye's work," indicated Mario Tremblay, founder and president of RobotShop. "I personally started building robots using Lynxmotion products. From that point onward, I understood that building complex robots could be accessible to everybody. Lynxmotion products are very versatile, high quality, and respond perfectly to 21st century educational needs. Along with this acquisition comes a great responsibility for continuing what Lynxmotion has started and we plan to work very hard to live up to the expectations of the community."
Founded in 1995 by Jim "The Robot Guy" Frye, Lynxmotion.com sells their products around the world via their website and their distributors. Lynxmotion is one of the oldest manufacturers of robot kits, including robot arms, biped walking robots, quadrapods, hexapods, tracked and wheeled vehicles, and more. The range of products has evolved during the last 15 years and they are now specialized in a modular robotic building system known as the "Servo Erector Set".
"I founded Lynxmotion in 1995, due to a fascination with robotics and a frustration with the available robot-based kits," indicated Jim Frye. "We have made a serious commitment to manufacture and distribute the absolute highest quality educational robot kits and we are convinced that RobotShop will have a positive impact on this objective. RobotShop has always offered excellent, world-class service and they take customer satisfaction to heart. Lynxmotion is in good hands."
About RobotShop inc.
RobotShop is the world's leading robot store for personal and professional robot technology. It provides personal, domestic and professional robots, development platforms, kits, and specialized robotic parts. RobotShop is also an important source for robotics education and research.
For more information on RobotShop, please visit http://www.robotshop.com
About Lynxmotion inc.
Lynxmotion manufactures robotic parts and educational robotic kits. These products and guides are important tools for teaching and learning many different complex aspects of robotics. Lynxmotion also hosts one of the most active communities of amateur roboticists in the world.
For more information on Lynxmotion, please visit http://www.Lynxmotion.com