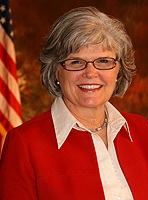 Robyn West has a proven record of cutting spending without cutting services or jobs!
Blaine, MN. (PRWEB) October 11, 2012
Robyn West says, "I don't really consider myself a politician, and pride myself on my philosophy of being a fiscal watchdog. Viewing the money spent by the government as coming directly from the pockets of the citizens." Because of that Robyn West says, "Government should not take one dime more than is necessary to do the services they are mandated to do."
Nikole explains in a Robyn West video testimonial, the reasons for supporting Robyn West for Anoka County Commissioner District 3, which includes Blaine, Fridley, and Spring Lake Park. Nikole states, "There are several reasons why people should support Robyn West as Anoka County Commissioner, which include Robyn West's love for people, plus she has such a passion for America which she makes available to the people in Anoka County. Robyn West is a really good team player, however, Robyn always brings fresh ideas to the table. Robyn West is proactive about taking a look at the issues from a diverse perspective to solve problems. Robyn West has been making a difference for people, since she has been in office."
Robyn West has worked diligently for over 5 years on the "Connect Minnesota Broadband project" to provide the residents of District 3 with high speed Internet capabilities, which will help keep all citizens connected.
Commissioner Robyn West also explains, "I also pride myself on the core values I uphold in every area of life." Now is campaign season. With that comes rules, one of Robyn West's frustrations, is that some candidates for public office disobey the laws that they are supposed to follow when it comes to placement of signs and proper acceptance of contributions. "Lately there has been lots of dirty politics going on," Robyn West exclaims.
"What is off limits to sign placement, are the right of ways, public property, and placement on private property without permission," explains Robyn West and continues to say," Mr. Dan Sanders has placed a very large number of 8 ft. by 4 ft. signs in the rights of way, public land, and in some of the residents' back lots without permission, which is a violation of county ordinance in Anoka county."
Robyn West asks, "Does Dan Sanders have special dispensation? Is that what he would be like as an elected official? The people expect everyone to follow the law presented at the time they file to run for office. Dan Sanders should know the law, however, even though there was a request to remove the signs, they are still there after nearly two weeks. Candidates should be held to their integrity. The people deserve someone they can truly trust to put the taxpayer above self interest!"
Plus, Robyn West has a proven record of cutting spending without cutting services or jobs. The county board cut the levy by 7.4%, and in 2013 will be cutting another 1%! They have also committed to getting their debt under control. In 2013 they will not incur any more debt, but will start to bring it down to a level where people can live within their means. Now that is the type of candidate the people can support!
Harold Schrenk explains why people should support Robyn West for Anoka County Commissioner, "She is a hard working lady, and keeps the government lean, because Robyn West tries to keep the expenses down by cutting out unnecessary spending. Robyn West wants the government to invest in roads and bridges, the infrastructure that is needed, but Robyn West does not want to invest in the bridges or roads that go nowhere. I really appreciate the fact that Robyn West wants to invest in the quality of life, and everything that she has done for Anoka County the past four years."
There are many ways that the residents of Anoka County District 3 can volunteer and get involved with their community, that include the following:
Display a yard sign
Help Robyn West distribute campaign literature
Make phone calls
Distribute and put up lawn signs
Host a meet and greet with Robyn West with neighbors, friends, or associates
Go door knocking with Robyn West
Host a fundraiser for Robyn West
Send an email (robyn.west(at)yahoo(dot)com)
Call Robyn West (612 804 8207)
Robyn West is also very open to new and creative ideas that will help continue the mission. Call Robyn West today at 612-804-8207, or visit RobynWest.net to get involved.