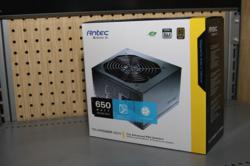 Aware Bear Computers offers Desktop Computer Power supply diagnostics and replacement in Rochester NY.
Pittsford, NY (PRWEB) June 15, 2012
"Rain and thunderstorms are more frequent in Rochester, New York during the months of April to September. Temperatures get warmer, the snow melts and the warm months quick in. With the rain and thunderstorms, severe desktop computer power supply damage can happen due to electro static discharge (ESD)," mentions Andre Leite Alves, owner, founder and CEO of Aware Bear Computer Repair in Pittsford, New York.
Electro static discharge or (ESD) is the technical term for the rapid discharge of static electricity from one conductor to another of a different potential. An electrostatic discharge can damage integrated circuits found in computer and communications equipment. Aware Bear Computers has the tools to diagnostic every desktop computer that comes in for a in store flat rate of $29.
"We recommend everyone to purchase a power surge protector in order to keep their electronics protected against a power surge. A good power surge protector, usually costs between $69 to $150 dollars.
"APC is the world leader in power surge protectors and even makes units that come with a built in battery backup that will allow users to shut down a computer in case of a power loss," added Arthur Leite Alves from Aware Bear Computer Repair in Rochester, New York.
Aware Bear Computers, stocks the majority of desktop PC power supplies, and can offer customers same day service when it comes to a power supply replacement. AwareBear has all the tools to proper diagnosis any desktop computer and make sure that the power supply is working properly. DELL, HP, Lenovo, IBM, Compaq, Acer, Gateway, Sony, Vaio and other brands can be serviced and repaired by Aware Bear Computers in Pittsford, New York.
http://www.rochestercomputer.org/awarebearcomputers/desktop-computer-power-supply-replacement-awarebear-computers/
Aware Bear Computers is running computer repair specials till the end of 2012. In store Diagnostics and in store virus removals are a few examples of AwareBear's specials. For more information please visit AwareBear's Official Website: http://awarebear.com or Aware Bear's Official Blog Site: http://awarebear.com/blog
Aware Bear Computers is located in the historical Village of Pittsford, New York by the 4 corners in the downtown Pittsford. Store hours are Monday – Friday 10am to 6pm, Saturdays 11am to 3pm and closed on Sundays and major holidays. AwareBear's phone number is 585.473-7035.