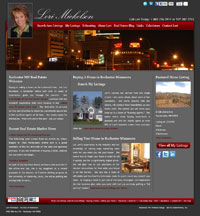 Customer referrals comprise 90% of Mickelson's real estate business. Rather than passing on clients to teams of 'training agents,' Mickelson strives to work directly with all of her clients.
Rochester, MN (PRWEB) February 06, 2012
Realtor for RE/MAX Results in Rochester, Lori Mickelson, is pleased to announce that she has attained the highest volume of home sales for the company in 2011. Mickelson's dedication to providing excellent client services, as well as her extensive expertise in homes for sale in Rochester MN, has led her to become RE/MAX Results #1 real estate agent of the year.
Mickelson began her real estate career in 1990 after graduating from the University of Minnesota; she previously attended Rochester John Marshall High School. Her 21 years of experience in real estate in Rochester MN has given her an edge above the competition. She is highly skilled in negotiation and on average sells over 75 homes a year, usually above current market prices. In 2010, she grossed over $15 million in home sales. Since her career began, she has consistently been ranked in the top one percent in Rochester and the top 10 for RE/MAX Results in Minnesota.
What sets Mickelson apart from the crowd is her extensive knowledge of homes for sale in Rochester. She knows that new residents will be looking for a Realtor in Rochester, Minnesota as the new building projects issued by the Mayo Clinic medical institution create more jobs.
Customer referrals comprise 90% of Mickelson's real estate business. Rather than passing on clients to teams of "training agents," Mickelson strives to work directly with all of her clients – calling them as soon as new homes enter the market. Her passionate dedication to quality service and detailed attention are the backbone of her career.
Marci Billings, a former client of Mickelson's, said, "Lori takes time to find out about her clients and their needs and wants. She is incredibly knowledgeable about her work and always has a smile on her face! Lori doesn't just find you a house - she finds you your house!"
Mickelson's industry focus in home sales has made her an expert in home staging. She knows what needs to be done in order to sell a home quickly, and for higher prices, including how to make a home presentable from street view, small investments that can make a huge difference and tips and tricks to keep in mind just before a showing. In fact, she gives her clients access to her own personal selection of interior decorations, for no cost, while the home is on the market. She is a "full service" realtor, with a number of affordable and trustworthy individuals on speed dial to assist her clients with any home projects or repairs they might need.
Of the homes for sale in Rochester, MN, "Very, very satisfied is how I would describe the experience of selling my home with Lori Mickelson," said Dennis Mays, a former client. "The whole process was completely hassle-free. Lori and her assistant took care of everything. Professional is how I would describe the approach of Lori and her team."
Mickelson's husband, Gary Schueller, is also a top Realtor in Rochester MN and works at RE/MAX Results. Their daughter, Melissa, is in the industry and is employed as their assistant as well. Like her mother, Melissa is extremely familiar with the city and is available to help with all aspects of buying and selling homes in Rochester.
Melissa says of her mother, "If you're thinking of buying or selling, why not talk with the Top Producer, someone who really works for you!"
Additional services Mickelson offers include access to MLS listings, expert paperwork and negotiation skills, and detailed analysis of individuals' current real estate status and needs.
RE/MAX Results is a full-service real estate company and has served the greater Rochester area since 1987. RE/MAX Results prides itself on providing top-quality agents and top-quality service for all of their client's real estate and marketing needs. Services that RE/MAX Results offers include; strategies for buying and selling homes, insights in the housing market, home valuation, relocation and moving services, financing home mortgages and information regarding local school districts.
###