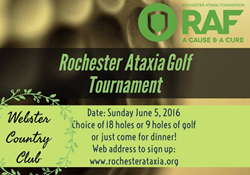 Ataxia is a fairly rare disease, but there's no cure, so we're doing everything we can to help raise funds for research and provide support for people with the disease and their families
Rochester, New York (PRWEB) June 03, 2016
The Rochester Ataxia Foundation (RAF) hosts their annual charity golf tournament to help raise funds for research and awareness to help support families affected by inherited ataxia, a disease of the central nervous system that currently has no cure.
The golf tournament will be held Sunday, June 5 at Webster Golf Club, 440 Salt Road, Webster, NY, starting at 11:00 am. Registration, range balls and lunch will be followed by the 12:30 pm shotgun start. Participants can play 18 holes and the day includes lunch and dinner at the club for $100 per person.
Additional options include nine holes of golf plus dinner for $65.00 per person, or the post-tournament dinner only for $50.00. There will be cocktails with a cash bar beginning at 4:30 pm before dinner is served at 6:00 pm. The event will also include a silent auction plus raffle items, with all proceeds helping to support the RAF.
Foursomes aren't required—individual golfers can join others to create a foursome at the event. "This tournament is a great opportunity to meet other golfers, network and help us raise money to help fight inherited ataxia," says RAF board president Suzanne Coglitore. "Ataxia is a fairly rare disease, but there's no cure, so we're doing everything we can to help raise funds for research and provide support for people with the disease and their families."
Those who are interested in participating in the golfing event can purchase tickets online at rochesterataxia.org right up to the day of the event.
The Rochester Ataxia Foundation, Inc. (RAF) is a non-profit organization founded in 2011 to advocate for individuals afflicted with hereditary ataxia and to raise the funds necessary to support vital research toward treatment and a cure. Its mission includes helping to support the quality of life for afflicted individuals and their families, along with raising public awareness through outreach and education.
For more information about RAF and hereditary ataxia, visit RochesterAtaxia.org.