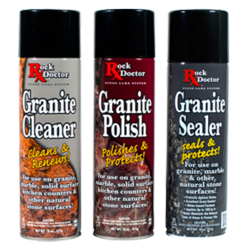 Rock Doctor has continued to see growth with current distribution through national and regional retailers such as Lowe's Home Improvement, Bed Bath & Beyond, Ace Hardware Stores, Do it Best Hardware, Hy-Vee, and Wegmans
Lenexa, KS (PRWEB) December 20, 2012
Rock Doctor Products, a manufacturer of fast-drying, non-abrasive cleansers, polishes, and sealers for granite, marble, and other sealed stone surfaces, recently announced more distribution expansion for their aerosol stone care products.
Delhaize Group, an international supermarket group with over 1,500 supermarkets in the United States, has recently agreed to distribute the Rock Doctor product line through their Food Lion, Hannaford, and Sweetbay stores and supermarkets. Wal-Mart Stores, Inc. has also agreed to distribute Rock Doctor products on a regional basis throughout the United States and will begin distribution in the first quarter of 2013. In addition, Rock Doctor has continued to see growth with current distribution through national and regional retailers such as Lowe's Home Improvement, Bed Bath & Beyond, Ace Hardware Stores, Do it Best Hardware, Hy-Vee, and Wegmans.
Rock Doctor Granite Cleaner, Granite Polish, and Granite Sealer products have been on the retail marketplace for over 15 years. Each was specially formulated to keep granite surfaces looking clean and shiny like new. With their non-abrasive, low-pH formula, and clean, fresh scent, the Rock Doctor line of products has developed a national and international following from home owners and businesses seeking care products for their granite, marble, quartz, and other sealed natural stone surfaces.
About Rock Doctor Products
For over 15 years, Rock Doctor has served the consumer and business markets with its line of specially-formulated Granite Cleaner, Granite Polish, and Granite Sealer aerosol products. Rock Doctor Products is wholly owned by Apex Products, LLC and distributed out of the Kansas City area.
Additional information concerning the Rock Doctor product line, the company, and where to find Rock Doctor through retail stores is currently available at the official company website: http://www.rockdoctor.net