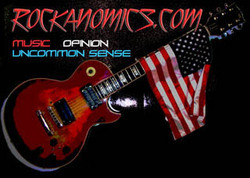 One of the main reasons for Rockanomics.com is to raise awareness of the needs of U.S. military personnel and highlight their tremendous successes around the world
Philadelphia, PA (PRWEB) October 8, 2008
World Anthem Inc. announces the upcoming launch of Rockanomics.com, a conservative news site and rock music community in one. Pro-American and pro-military, Rockanomics.com aims to take on the bands, magazines, newspapers and other media that constantly slam the country and the president. Rockanomics.com will also offer an "ally" program, motivating businesses and individuals to refer subscribers and earn ongoing revenue. The site is scheduled to launch in late 2008.
"One of the main reasons for Rockanomics.com is to raise awareness of the needs of U.S. military personnel and highlight their tremendous successes around the world," says Rob Stanley, founder of Rockanomics.com. "To show our support, a portion of subscription fees will go to one of several military charities benefiting wounded or disabled veterans and their families."
Rock music is the primary genre featured on Rockanomics.com, but exceptional pop, contemporary country and hip-hop is also included to attract a broad and diverse fan base. On the music pages, emphasis is given to exposing lesser known up-and-coming artists, while featuring newsworthy events in the mainstream entertainment press. Individuals who subscribe to the site's mailing list can download free music and are entered in a drawing for an iTunes gift card or an iPod Nano. Visitors can also subscribe to a pre-launch mailing list to stay informed of the exact launch date and get sneak previews of the site before it goes live.
In addition to music reviews and downloads, the site features technology reviews, videos, interviews, articles, analysis of national events and pop culture, trivia, discussions, blogs and a special 9/11 remembrance. Rockanomics.com writers tackle the big news stories, point fingers, name names and offer fact-based analysis of national concerns and their effects on American life.
"With the dawn of a new media committed to providing non-biased reporting, and with intelligent, informed, engaged listeners, the momentum is shifting back to a patriotic 'America First' winning attitude, where clear thinking, honest debate and masterful problem solving rule the day. Rockanomics.com is built in this spirit, and strives to drive these ideals home," Stanley says.
A unique feature to Rockanomics.com is the site's career and business departments. Individuals looking to advance will find education and career information, business basics and personal finance tips on this section of the Web site.
"Though we intend for Rockanomics.com to become one of the Web's leading online portals for conservative news and rock music, we still find it important to help our readers find a fulfilling career path and share in the American dream," Stanley says.
To view a video greeting and statement from Rob Stanley, founder of Rockanomics.com, the Web's newest site for rock music and conservative news, visit http://www.rockanomics.com.
Contact:
Rob Stanley
RobStanley @ rockanomics.com
215-598-2807
# # #