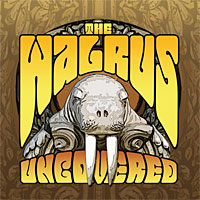 Who doesn't love rock and roll?
Bellingham, WA (PRWEB) November 15, 2006
Rock and roll will never die. A recent New York Times article celebrated a renaissance of rock music venues in New York City, and veteran rockers such as Paul McCartney and Rod Stewart are still touring to sold-out audiences. This renewed interest in classic rock music couldn't come at a better time for the Walrus.
The Walrus, an 11-year-old Bellingham, Wash., band that has been energizing nightclubs and community festivals in the Pacific Northwest with pinpoint covers of the Beatles, Eagles, Queen and other rock and roll bands, is about to release its first CD of 11 new rock classics. Appropriately titled, "Uncovered," the Walrus' debut classic rock CD features rock, pop and folk vocal arrangements and harmonies reminiscent of the Beatles and Crosby Stills Nash & Young combined with classic melodies inspired by the Sgt. Pepper era.
"This is a great time for a resurgence of classic rock music," said Joe Young, who composed seven of the songs on the Walrus CD and who has been playing lead guitar in rock bands for some 40 years. "Who doesn't love rock and roll?"
Young's "Second Family" was written a few years after he joined the Walrus in 1998 and celebrates the friendship of the Baby Boomers who make up Bellingham's Rockin' Sea Mammals: Vocalist and keyboard player Jamie Shea; vocalist and rhythm guitar player Chuck Dingee; bass player Walt Burkett; and drummer Michael O'Neal. "Second Family" has become a sort of anthem for the indie rock band that has worked more than two years to record and produce their first CD. The new song has been a staple part of the Walrus set list as it helped the band pick up a loyal following at a number of rock music clubs and private parties throughout the Pacific Northwest.
"We think 2007 will be the Year of the Walrus," says Dingee, an Indiana native who has been playing in rock bands since he was 12 years old. "People of all ages really appreciate classic rock music, and the only classic rock they can find is the old stuff. These new songs are our gift to our loyal fans and fans of classic rock everywhere."
A recent New York Times article said that despite some high-profile departures of rock clubs in the New York area, the rock and roll music scene is as healthy as it has been since its peak in the 1960s and '70s. That's certainly the case in the Pacific Northwest as well, and the Walrus plans to have a series of CD release parties beginning Nov. 18 at the Wild Buffalo House of Music in Bellingham. The Walrus will also perform new songs from the CD at The Fairhaven Pub & Martini Bar on Dec. 1.
The new Walrus CD defies classification in a single genre. Each of the 11 songs is so different that the debut album sounds like a "Walrus Greatest Hits" collection. The songs range from "The Garden," inspired by the 1992 New Age novel, "Ishmael," and employing CSN&Y-style harmonies to the deliciously vampy "Tongue in Cheek" to the psychedelic-sounding "Gaia."
The CD is rich with vocal harmonies and ballads about empowerment, absent and cheating lovers and friendship, and it conveys an ageless popularity with electric, acoustic and pedal-steel guitar licks.
"To me, the songs are a bit like our children," said Young. "Though they're all different, I love them all the same."
Two songs on the long-awaited CD of new rock classics are directly inspired by the Beatles, the Walrus' favorite band to cover. Young's "Abbey Road" describes the ups and downs of rock stardom, and "Hold Your Hand" is a 96-second dance number with harmonies as crisp as The Beatles' No. 1 hit, "All My Loving" (and reminiscent of a number of early Beatles songs including, of course, "I Want to Hold Your Hand").
"Audiences where some of the 'Uncovered' songs have been played have told us they are certain they've heard these tunes before because they have such a familiar sound," Dingée said.
Shea, one of the original members of the band, thinks that may be the result of new rock clubs opening all over the country and concerts featuring legendary rockers such as Rod Stewart, fueling the demand for the type of music most of the 50-something crowd grew up on. "It's not only the Baby Boomers who can relate to the Walrus' classic rock style," Shea said. "Some of our most appreciative fans are kids in their 20s whose parents serenaded them with songs like the Beatles 'Golden Slumbers' instead of 'Rockabye Baby.' "
She added: "Given a choice between angst-ridden teen rock and over-produced pop, many young people prefer to turn to the more cheerful and down-to-earth classic rock groove."
About Uncovered by the Walrus:
"Uncovered" is a CD of 11 new rock classics by the Walrus, a popular rock and roll band from Bellingham, Wash. Of the 11 new songs on "Uncovered," seven are written by lead guitarist and vocalist Joe Young, a prolific singer-songwriter; two are by singer and guitarist Chuck Dingée; and another two are written by vocalist and keyboard player Jamie Shea. The CD of classic rock music is available at record stores, iTunes and CD-Baby for about $15. For more information, see http://www.tusktusk.com/uncovered/.
'Uncovered' can be purchased for $15 from members of the Walrus. It will also be available soon at music stores and online music sites.
For more information about the Walrus, including photos, a list of songs and booking information, go to http://www.tusktusk.com or http://www.myspace.com/iwalrus.
Print-quality photos of The Walrus are also available on http://www.PRWebPhotowire.com

A print-quality image of the CD cover is available at: http://www.prwebphotowire.com/releases/imid1302.htm
###