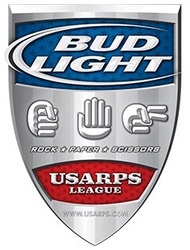 ST. LOUIS, Mo. (PRWEB) July 14, 2008
The Rock Paper Scissors Championship will be aired Monday, Oct. 6 as part of a special edition of FSN's Best Damn Sports Show Period. If you can't wait until then, watch the hand-to-hand combat between two fierce UFC contestants that made a special appearance at this year's Championship at http://www.youtube.com/watch?v=O2YFtSYDfiM.
You'll also have a chance to watch Sears compete again when he travels to Beijing, China during the Summer Olympics where he will try to earn his bragging rights at the International Rock Paper Scissors Federation Championship. Unfortunately, the losers of the Bud Light/USA Rock Paper Scissors League Tournament are not so lucky, as you can see from legendary competitor Master Roshambollah's attempts at consolation. http://www.youtube.com/watch?v=0BeCZSqqliI.
About Anheuser-Busch
Based in St. Louis, Anheuser-Busch is the leading American brewer, holding a 48.5 percent share of U.S. beer sales. The company brews the world's largest selling beers, Budweiser and Bud Light. Anheuser-Busch also owns a 50 percent share in Grupo Modelo, Mexico's leading brewer, and a 27 percent share in China brewer Tsingtao, whose namesake beer brand is the country's best-selling premium beer. Anheuser-Busch ranked No. 1 among beverage companies in FORTUNE Magazine's Most Admired U.S. and Global Companies lists in 2008. Anheuser-Busch is one of the largest theme park operators in the United States, is a major manufacturer of aluminum cans and one of the world's largest recyclers of aluminum cans. For more information, visit http://www.anheuser-busch.com.
Keyword Tags:
anheuser-busch, beer, best damn sports show, bud light, mandalay bay, rock paper scissors, summer olympics, ufc