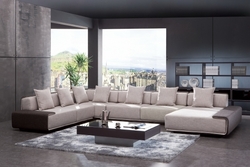 [We're] a solid company, with good vision and goals.
Sarpsborg, Norway (PRWEB) March 11, 2009
People are serious about their furniture, and ROCKA is serious about providing them with the furniture they want, exactly how they want it.
They are carrying that commitment into 2009 with the launch of their new 2009 collection of high quality sofas.
"[We have] a sofa that suits every person's individual style, requirements and home interior," states ROCKA CEO Matthew Alleyne.
The company has gone above and beyond the bare necessity of selling a sofa that suits with their 2009 collection of top quality sofas. Customers can choose between 3+2+1 models, corner sofas, module sofas and pull out beds, each of which is backed with ROCKA's own unique 5 year guarantee on the workmanship of their products.
Every sofa is designed with comfort in mind and produced using only the highest quality Italian fabrics. Customers have the option to choose a model directly from the display floor or to custom design their own using ROCKA's collection of over 200 high quality fabrics.
"We offer sofa designs with a design edge that no other stores in Norway offer," says Alleyne. "You get a unique product to suit you."
ROCKA AS is a Norway based furniture company dedicated to providing its customers with high quality modern furniture at low prices without sacrificing the high standards of quality and customer care that have been an instrumental part of their success to date. Plans are already in motion for the company to open ten new dealer owned stores throughout Norway by the end of 2010 to accommodate the thousands of happy customers that now consider ROCKA to be their premier source of low cost, high end furniture.
"Our focus is on happy customers that shop from us year after year," states Alleyne."[We're] a solid company, with good vision and goals."
For more information, visit ROCKA on the web at http://www.rocka.no or contact company CEO Matthew E. Alleyne.
# # #